---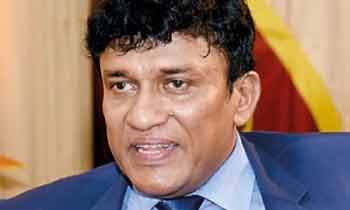 Tamil Progressive Alliance (TPA) leader Minister Mano Ganesan had been provided with Special Task Force (STF) security with a backup vehicle with five STF personnel, STF sources today said.
Meanwhile, the Minister said in a statement that he faced serious security issues and sought the intervention of President Maithripala Sirisena, Prime Minister Ranil Wickremesinghe and had also written to the IGP in September.
"Certain politicos in Colombo are behind these threats. I have discussed with President Maithripala Sirisena. I have also explained my situation to Premier Ranil Wickremesinghe at different occasions. Some fallen politicians are all out to destroy my party and block the fair representation I seek for the communities my party represents in the city council," he said.
"The links between such politicos with underworld elements are visible. Some are connected to white-van saga of the earlier era and drug dealers," he said.
The Minister said he decided to keep his party and candidates away from such threats in Colombo north and added that it was one of the reasons why he decided to contest alone in the forthcoming Municipal Council elections in Colombo
"I have also written to the IGP as early as September. The Police had already been notified. The threat level has increased due to the election heat," he said.
"Certain websites are printing falsehood that President Sirisena ordered STF Security for me in exchange for political support of my party to his party. To be fair to the President, he did not discuss party and election politics with me. He acted with responsibility and authority in the security interest of his Cabinet member.
"Besides I am not a person who makes my decision for perks. I have a very long clean history of principled politics. Such reports have been cooked in Colombo and fed from here," he said.
"There had been shooting incidents during last Parliamentary elections campaign in the Colombo north. Lately, there was a shooting incident occurred two weeks before at Modera in Colombo north. There had been reports coming from election monitors on the inclusion of underworld elements in the nomination lists.
"The Chairman of Elections Commission too had made comments on this issue," he further said in a statement.
"I have neither armed gangs nor underworld elements working for me. Therefore when I face threats, I have no alternative but to seek Governmental protection. I am part of the Government. My security concern is not political but logical. It is my right too. On the other hand, my Cabinet colleagues Rajitha Senaratne, Rishad Bathiudeen, Palani Thigambaram, Rauff Hakeem are also provided with STF security," he said. (Ajith Siriwardana)