---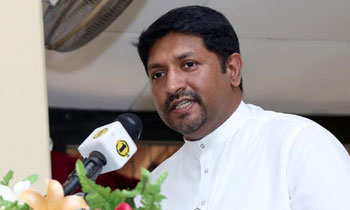 Former President Mahinda Rajapaksa should either retire from politics or make up his mind to support the government's efforts to develop the country and to bring in peace and reconciliation, State Minister of Defense Ruwan Wijewardene said yesterday.
"It is the former President and the joint opposition which will create separatism in this country by arousing communalism and provoking the people. They are trying to provoke people through false propaganda as that is the only way they would be able to come back into power. Ex. President Rajapaksa should either retire from politics or help the government to bring in development and reconciliation without jeopardizing the work undertaken by us," Mr. Wijewardene said.
Mr. Wijewardene was speaking at a ceremony held in Biyagama to distribute spectacles to children with visual defects last evening. He said there is no truth
whatsoever in the statement made by the joint opposition that the intelligence units in the country have come to a standstill. "If that is the case how did our intelligence units get to know about the plot to kill TNA MP M A Sumanthiran?," he asked.
Further, Mr Wijewardene said the government had closed down only a few small security forces camps while all strategically important camps are still functioning.
The State Minister said a political solution was needed to resolve the national issue as the war victory alone will not eradicate terrorism. "Our government will devolve power only after ensuring the unitary status of the country," he added. (Yohan Perera)