---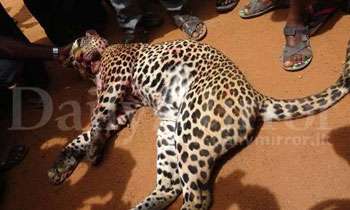 While stating that the incident where irate villagers of Ambalakulam in Kilinochchi had killed a prowling leopard was a criminal act, the Wildlife Conservation Department today said it had taken legal action against the people involved in the incident under the Fauna and Flora Protection Ordinance in the Kilinochchi Magistrate's Court.
Department's Director General M.G.C. Sooriyabandara told the Daily Mirror that they had provided the Courts with images and videos circulating in the social media with regard to the incident in order to identify and arrest the suspects involved in the incident.
"Killing of this leopard is a criminal act. Accordingly, legal action is taken to arrest the suspects. The Police and the department are carrying out two separate investigations," he said.
He said it was reported that the villagers had obstructed the activities of the Wildlife Officers, who had gone to catch the leopard.
He also said the people should react to such incidents in a more sensible manner and added that the wisest decision was to keep oneself away from such incidents and to inform and let the lawful authorities to deal with the matter.
Meanwhile, Wildlife Deputy Minister Palitha Thewarapperuma said the Wildlife Ministry had ordered the Police to take legal action and the Ministry to conduct an impartial inquiry on the incident.
Deputy Minister Thewarapperuma told the Daily Mirror that Wildlife Minister Field Marshal Sarath Fonseka had made this direction on Thursday, soon after this incident had taken place.
He also said the reason behind this unfortunate incident was some authorities fault in handling wildlife issues and it was not a fault of the leopard.
"The leopard has frequented the area to snatch cattle and goats had pounced on villagers. The villagers have informed the wildlife officials of the area of this incident around 7.30 am on Thursday. However, the wildlife officers have arrived the scene around 11.30 am. By that time, the villagers have caught the leopard and killed it," he said.
He said it was necessary to find out the reason for the wildlife officers of this area to arrive the scene few hours late.
"People who have committed wrong should be punished. This innocent leopard is not at fault. It is questionable as to why these people are so happy after killing this animal. They are even taking selfie with it. Perhaps, they do not know the consequences of killing an animal in such a brutal manner. May be they were too depressed with the attacks of this leopard for the past few days. Those people cannot even do their daily activities due to this leopard's attacks," he said. (Kalathma Jayawardhane)