---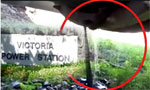 A leak has been reported in two of the three main pipelines carrying water to the Victoria hydro power plant turbines, officials said today.
A senior official said they believed that the pipe had sprung a leak because of the intense heat prevailing during the day. He said this was a normal occurrence during hot weather season.
"We believe that this leak was the result of the intense heat expanding the pipelines. There's no need for quick repairs because this condition will gradually ease with night fall," he said.
The official said the leak was minute and would in no way effect the hydro power generation.
When Daily Mirror contacted another official at the power plant, he said the leak was due to a repair carried out recently at the hydro power plant. He also said it was impossible to have any sort of leak as there was a shortage of water at this time.
"The amount of water in the dam has also dropped by 45% to 50%," the official said. (Kalathma Jayawardhane and Nadeeka Dayabandara)
Video by Gayan Amarasekara