---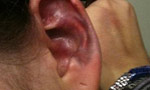 A 34-year-old Sri Lankan is accused of attacking his ex-girlfriend and biting off a part of her ear, the UAE National reported today.
On April 28, the woman said she was walking to work in Al Satwa, Dubai when the accused attacked her from behind, restrained her arms and tried to snatch her purse.
When she tried to break free, he bit off a bit of her ear, she said.
"We were in a relationship about three years ago but we broke up and since then he has been stalking me and attacking me and even stealing my money," said the 36-year-old woman.
Prosecutors had charged the suspect with theft and causing a 5 per cent permanent disability.
He was not present at Dubai Criminal Court on Thursday to enter a plea. The next hearing will be on November 21.