---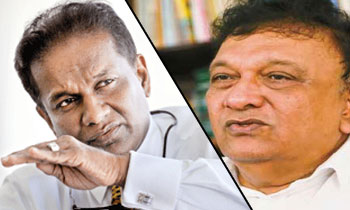 The Leader of the House, Lakshman Kiriella was reported to have locked horns with Deputy Speaker Thilanga Sumathipala at the party leaders' meeting over his participation at a press conference along with Minister S.B. Dissanayake.
At this press conference, Mr Dissanayake said it would be difficult for the Sri Lanka Freedom Party (SLFP) to vote against the No-Confidence Motion against Prime Minister Ranil Wickremesinghe.
Mr Kiriella took Mr Sumathipala to task over his participation in this meeting.
He reportedly said it was unacceptable for Mr Sumathipala do attend such a news conference organized by a party.
He called the Deputy Speaker's conduct 'unbecoming'.
He said the Deputy Speaker should have resigned if he wanted to brief the media as an SLFP member.
Deputy Minister Ajith P. Perera also supported the views expressed by Mr Kiriella at this meeting. (Kelum Bandara)