---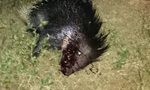 Some photographs of some men killing rare and protected wild animals went viral on social media on Thursday.
They showed the men with weapons and sharp objects brutally killing wild animals such as deer, wild boars and porcupines.
The incident is reported to have occurred in a tea estate situated at the Hanthana, a world heritage site in the Panvila Police Division.
Meanwhile, the Panvila Police have launched an investigation into the incident and initial investigations have revealed that the photos were taken several years ago.
A senior police officer said an investigation was launched to trace the weapons used for the slaying of the animals. (Nadeeka Daya Bandara)