---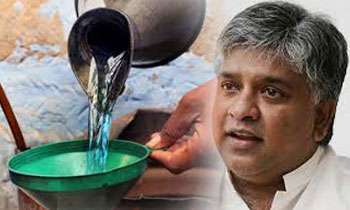 Kerosene sales have declined by a whopping 400 percent since the removal of the kerosene subsidy this month, indicating large scale abuse of kerosene for adulteration of more expensive distillates and greater industrial use of the fuel, Petroleum Resources Development Minister Arjuna Ranatunga announced yesterday.
Speaking at the launch of the ministry's new website, Ranatunga said bus and lorry owners particularly substituted kerosene for diesel and other fuels due to subsidised kerosene prices.
The government hiked fuel prices early this month for the first time since 2015, and the Cabinet approved a pricing formula that will re-price fuel prices every two months going forward.
Accordingly, the price of a petrol litre was increased by Rs.20 and diesel by Rs.14. The biggest increase was effected on kerosene, jacking up the price to Rs.101 from Rs.44.