---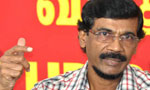 The Janatha Vimukthi Peramuna (JVP) charged today that the Government was offering ministerial portfolios to certain MPs to please them, going against peoples' mandate and wasting people's money.
JVP general secretary Tilvin Silva said it was a serious offense to appoint ministers to establish power and that it was what happened in the Rajapaksa regime as well.
"Appointing ministers has become a joke now. No one can tell the exact number of ministers today as it keeps on changing day by day. Even during the Rajapaksa regime, ministers were appointed to establish power and the number of ministers exceeded 100, which drew protest of the civil society and the JVP. When we proposed that the number of ministers should be included in the constitution, the UNP and Maithripala Sirisena accepted it at that time and said ministries should be divided technically. But they are acting against their pledge," he said.
Mr. Silva said the number of ministers had reached 92 now even though it was restricted to 30 cabinet ministers and total of 40 deputy and state ministers in the constitution by adding an additional clause to evade the restrictions in the constitution.
He said ministers had been appointed without any scientific basis where Kalutara district MP Palitha Thewarapperuma had been appointed deputy minister of Wayamba Development. (Ajith Siriwardana)