---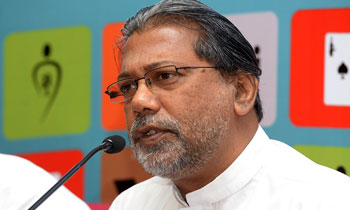 The joint opposition (JO) today complained to the Bribery Commission (BC) against Prime Minister Ranil Wickremesinghe, Minister Malik Samarawickrama and the Prime Minister's Senior Advisers R. Paskaralingam and Charitha Ratwatte on the Rs.5 billion loss incurred in the purchase of coal for the Norochcholai Power Plant.
JO MP Vidura Wickramanayake told a news briefing that the alleged financial misappropriation had taken place through the Lanka Coal Company (Pvt) Ltd.
"At least eight companies participated in submitting their bids. The Swiss Singapore Overseas Enterprises (Pvt) Ltd. ranked fifth, was granted the contract. The former chairman of Lanka Coal Company (Pvt) Ltd had revealed that there was a huge financial misappropriation which had taken place while purchasing coal for the power plant through this company," he said.
The MP said the Auditor General had also confirmed that the country had suffered a huge financial loss on this coal deal though the Prime Minister had advised that the coal be purchased through this company.
MP Mahindananda Aluthgamage said no investigation had being carried out on the complaints they made to the Bribery Commission under the 'Top-Ten thieves of the Yahapalanaya Government' expect for the Central Bank bond issue.
He said it was praiseworthy for President Sirisena to have appointed a Presidential Commission of Inquiry to probe the bond issue.
"This was the tenth complaint made by the JO. As MPs, we have the right to complain to the Bribery Commission because the relevant authorities are not prepared to investigate these complaints. We have decided to raise this matter in Parliament as well," he said.( Kalathma Jayawardhane)
Video by Sanjeewa