---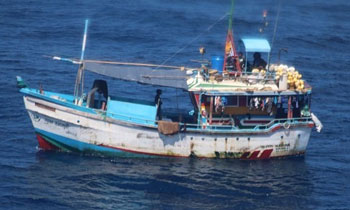 The Magistrate Court of Seychelles has remanded eight Sri Lankan citizens who are suspected of illegal fishing in Seychelles for an extra ten days as the investigation into their case continues, Seychelles News Agency reported.
Seychelles Fishing Authority's legal officer, Yannick Roucou, told SNA that "the suspects will return to court on January 19," after they appeared in court on Monday.
Seychelles, a 115-island archipelago in the western Indian Ocean, has a vast exclusive economic zone of more than 1.3 million square kilometers, and regularly faces illegal fishing problems.
The Sri Lankan-flagged vessel that the suspects were aboard was intercepted by the Seychelles Coast Guard's patrol ship 'Andromache' after it was spotted northeast of Denis Island. This happened during a routine surveillance mission by the Seychelles Air Force Maritime Patrol Aircraft on December 20.
Following consultations with the local fishing authority, the vessel was escorted to Port Victoria, where further investigation was carried out. The vessel which reached the port on December 23 was handed over to the police.
A communiqué from the island nation's Coast Guard stated that this was the second Sri Lankan fishing vessel to be intercepted last year on suspicion of illegal fishing.
The first one - LMUL-A-0520 KLT - was intercepted by coast guard's patrol ship 'Constant' on October 15 after local fishermen alerted relevant authorities. Five people were onboard the vessel.