---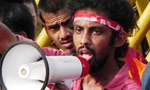 Inter-University Students Federation (IUSF) Convener Lahiru Weerasekara was today remanded till July 15 by Colombo Fort Magistrate Lanka Jayaratne on charges of defying a court order.
Despite an enjoining order by the Police, the IUSF had carried out a protest at Lotus Road, Colombo Fort on June 15 demanding the release of the seven students who were arrested on charges of ragging at the Kelaniya University.
However, the IUSF threatened to protest outside the universities against the remand of Lahiru Weerasekara.
On June 15, four students were hospitalized and three others including a female student were arrested during the IUSF protest. (Piyumi Fonseka, Indika Sri Aravinda)