---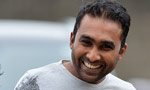 Former Sri Lanka cricket captain Mahela Jayawardane expressed his disappointment over the comment by the Sri Lanka Cricket (SLC) on spin legend Muttiah Muralitharan.
"Was very disappointed to hear about SLC comments on Murali. I was in the same boat few months ago," Jayawardane tweeted.

He also said;
"I can only say that people know the circumstance and situations. Murali don't have to defend him self."
"It's fare to get both sides of the story heard.Then SLC should not have made any statement."
SLC President Thilanga Sumathipala earlier said that Muralitharan's teaming up with the Australian camp during the Warne-Murali trophy would be disadvantageous to Murali himself in the long run.