---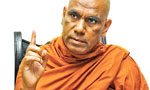 Rejecting allegations that Ven. Omalpe Sobitha Thera influenced the widow of Embilipitiya man, who died in a fall, by giving her money, the Thera said he only tried to help the woman after a donor from England offered to donate money to the victim's family.
Ven. Sobitha Thera said a donor, Udaya Peiris, who lives in England, had asked the thera over the phone whether he could help the Embilipitiya victim's family after which the thera mediated to help them.
"Udaya Peiris, a donor known to me, asked me if I could help him to get a cash donation sent over to the widow, considering her situation. When I offered to do so he gave me Rs. 45,000 to be given to her. Then I asked a social worker and a journalist, Chandima Kodituwakku, to find out whether the widow of the man who was killed in Embilipitiya needed the donation and if so to make arrangements to hand it over to her. After contacting the woman, Ms. Kodituwakku told me the victim was in a position to receive the donation. But we could not offer it to her until February 3 as the donor, Mr. Peiris, was not in a position to travel to Embilipitiya to make the donation and it got delayed," the thera said.
The thera said he was surprised to hear a lawyer on February 3 say that I offered money to the woman and influenced her not to act against the police as what i just explained is what really took place.
Ven. Sobitha Thera told a news conference he did not know on what grounds such an allegation was made and he did not try to influence the victimised woman not to act against the police. The thera said he was engaged in charity throughout the country and that was not the first incident of such a nature.
Ven. Sobitha Thera requested the police chief to conduct an investigation into the incident and reveal the truth to the country. (Ajith Siriwardana)
Video by Richan