---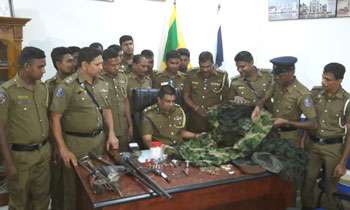 The Police had found live bullets and several military equipments including army uniforms when they carried out a search operation in the house of Anushka Kavishal alias Janga, an accomplice of underworld drug kingpin Makandure Madush in Talalla, today.
Police said Janga was arrested in Dubai along with Makandure Madush on Tuesday (05).
During the search operation, the Police had found nine army uniforms, two army helmets, 32 T56 live bullets, 11 training bullets, 37 empty cartridges, five SIM cards, a laptop and several other equipments.
Accordingly, the uncle of Janga had been arrested on the suspicion of possessing those equipment.
Janga has been a wanted criminal in murder cases and robberies.
Meanwhile, Police said they could not find any suspicious objects when they searched the house of Makandure Madush in Makandura. (Krishan Jeewaka Jayaruk)