---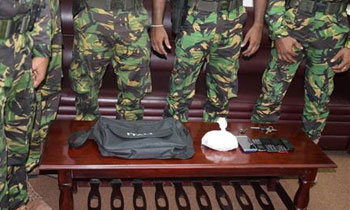 Five drug smugglers, including an ex-LTTE member have been arrested by the Organized Crimes unit of the Police Special Task Force (STF) with 510grames of heroin valued over Rs. 5 million during a raid at a hotel in Rathmalgoda, Polgahawela.
STF said the suspects were arrested on Friday night following a tip-off received to the STF intelligence unit. The main suspect, Rasayya Maheshwaran alias Simon, a resident of Jaffna who was a member of the elite Charles Anthony Brigade of the LTTE has been smuggling heroin using the sea routes.
STF said the heroin had been smuggled from Jaffna and then distributed across the country.
The other suspects aged between 40 and 50 were identified as residents of Vavunia and Matale.
A van and a motorcycle was also seized during the raid. The arrested suspects were handed over to the Police Narcotic Bureau for further investigation. They were detained for further questioning after produced in the Polgahawela Magistrate Court.
The raid was carried out by a STF team led by CI Nadeeka Silva on the instructions of SSP Waruna Jayasundara and the direction of the STF Commandant Senior DIG MR Latheef. (Darshana Sanjeewa)