---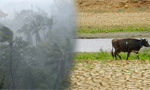 Heavy rains that experienced mainly in the Central Province have not affected the water levels of the main hydro power reservoirs in the province including Castlereigh and Maussakele, Ceylon Electricity Board (CEB) said today.
After the drought that lasted for months in several parts of the country including the Central Province, the country experienced heavy showers during last two weeks.
The Spokesman of the CEB Sulakshana Jayawardhana said the Castlereigh hydro power reservoir had experienced 12.6 mm rainfall mostly in the evening and the water level of the reservoir had only reached 18.7%.
The rainfall of the Maussakele hydro power reservoir was 4.6 mm and the water level was 26.7%, he said.
However, he noted that the recent rainfalls have not reached the spill levels of the two main hydro power reservoirs. (Piyumi Fonseka)