---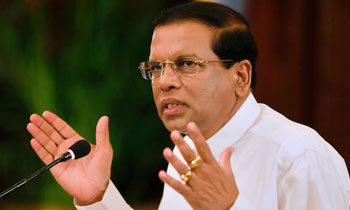 President Sirisena yesterday assured that the government would not sign any free trade agreement that would harm local industries and entrepreneurs and that he had decided to set up the National Economic Council (NEC) to strengthen the economy by streamlining its management processes.
He said its objectives were to increase export income and develop the local industry and
that there was a need for a stronger development programme for agriculture.
"The NEC aims at fulfilling the government's responsibility to develop the country's industries," the President said when addressing the annual Planning Award Ceremony of the Ceylon National Chamber of Industries (CNCI) held yesterday at Galadari Hotel in Colombo.
He said the NEC was set up after discussions with the representatives of the World Bank (WB), International Monetary Fund (IMF), local and international economic specialists and Sri Lankan specialists working abroad and requested the support of all stakeholders for the NEC's smooth operation.
The President said some groups that are not related to the business sector were scaring the business community by spreading false information. "The government will only enter into any free trade agreements with foreign countries by protecting local industries," he said.
He said state patronage for the local industry was not satisfactory during the past 25 years and in particular the government support to the local industries in the past two and half years adding that the government would implement a new programme within the next few months to encourage and guide small and medium scale entrepreneurs.
"False and misleading propaganda is being spread among local industrialists in urban areas by a group unconnected to the business community. I assure you that this government would not do anything detrimental to the local industry or industrialists. Our focus is on increasing exports if we are to achieve rapid development," the President said.
The award ceremony was organized by the Ceylon Chamber of Commerce for the 16th time and awards were given to 16 micro, small, medium and large business establishments, under five categories.
Litro Gas, livestock and mineral oil industries received the awards for State sector industries.
Ven. Athuraliye Rathanasara Thera and the Chairman of Ceylon National Chamber of Industries, Thissa Seneviratne were among those who participated in this ceremony. (Sandun A Jayasekera)