---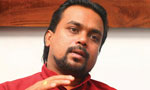 National Freedom Front (NFF) Leader and MP Wimal Weerawansa today claimed that the government was attempting to hide the cause of the fire in the armory of the Salawa Army Camp.
He said the fire and the resultant destruction of a large stock of weapons which were to be used by the Army for the next 20 years might have been a government attempt to fulfil the requirements of foreign countries.
"We should not consider this as an isolated incident. We saw how this government treated our security forces personnel in the recent past. A naval officer and the our Navy were insulted by Eastern Province Chief Minister NazeerAhamed. Soldiers in the Kilinochchi Army Camp were demoralized when Opposition Leader R. Sampanthan forcibly entered the army camp without prior notice or permission. There are clear facts to prove that the Kosgama fire was carried out to reduce the number of weapons based on foreign orders," he claimed.
He said the government was trying to hide the cause of the fire by preventing the Army Intelligence who are more capable of probing the incident, from taking part in the investigations with the CID.
He urged the government to disclose what happened atthe Kosgama Ammunition Dump and protect the other armories as well.
"Just because a lighted cigarette fell on the ammunition or the hot weather could not be a reason for such a major catestrophe in the army camp," Mr. Weerawansa said.
He said damage would have been bigger if former defence secretary Gotabaya Rajapaksa had not relocated 50% of the ammunition from the Kosgama Camp.
Meanwhile, Mr. Weerawansa said a former security coordinator of the American Embassy in Colombo has been appointed as the Eastern Navy Commander.
The latest appointment was made soon after the transfer of Eastern Navy Commander Rear Admiral Neil Rosayro to Colombo.
"Amidst the recent dispute regarding the Eastern Province Chief Minister's public reprimand of a navy officer, Rear Admiral Travis Sinniah was appointed as Commanding Officer of the Eastern province. Rear Admiral Sinniah resigned from the Navy in 2011 citing family reasons. After that, he had been working as the Security Coordinator of the American Embassy in Colombo for four and half years. He has held responsibility for the defence matters of the Pentagon.
However, this government has taken him back to the Navy claiming his resignation was a political revenge and he had been given a Rear Admiral's post with Rs.4.2 million as compensation. How can such an officer be appointed to such a responsible post in the Sri Lanka Navy," Mr. Weerawansa asked.
He claimed that the US was looking at the Trincomalee Habour to establish their naval activities there, appointment of Travis Sinniah who was once the Security Coordinator of the American Embassy would be a favour to them. (Piyumi Fonseka)
Video by Rishan