---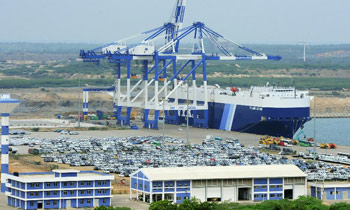 The Government is reported to have amended the agreement with China Merchants International Ltd. on the Hambantota Port Development Project with the inclusion of a proposal, among others, for a 60 per cent equity swap instead of 80 per cent as proposed in the initial agreement.
The Cabinet Committee on Economic Management is said to have discussed the amended version at its meeting this week. A memorandum containing the salient features of the amended version was presented to the members. Daily Mirror learns that the Chinese Company has agreed to do away the provision in the previous draft agreement that the Sri Lankan authorities should stop any port development activity within a 50-kilometre radius of the Hambantota Port.
According to the new agreement, the port security is a matter for the Sri Lankan authorities and that a 20 percent equity of the proposed joint venture can be sold to a third party.
The amended version of the agreement has been sent to the Port and Shipping Ministry for perusal. (Kelum Bandara)