---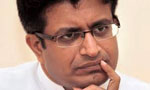 Parliamentarian Udaya Gammanpila today sought permission from the Colombo High Court to travel abroad.
He requested Court to temporarily lift the travel ban imposed on him so that he could travel to India between November 21 and 24 and travel to Japan between December 9 and 20. He did so through a motion filed in Court in connection with the case in which he is accused of defrauding Australian citizen Brian Shaddik of Rs. 110 million using fraudulent power of attorney, Mr. Gammanpila requested court to lift his travel ban temporally.
In the wake of State Counsel appearing in the case objecting to this request, High Court Judge A.A.R. Heiyantuduwa fixed November 9 to consider the request.
Meanwhile, the Colombo High Court yesterday served indictment on the other suspect in the case, Sidney Chandrasekara.
He was released on a cash bail of Rs 100,000 with two sureties of Rs.500,000 each and imposed a travel ban.
Mr. Gammanpila had on an earlier occasion served indictment and released on bail. (Shehan Chamika Silva)