---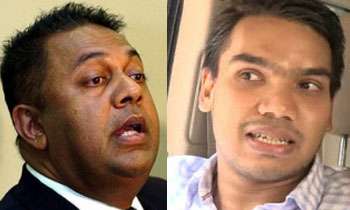 Joint Opposition MP Namal Rajapaksa yesterday urged Finance and Media Minister Mangala Samaraweera to focus on fulfilling promises he had made to the people before inviting former President Mahinda Rajapaksa for a political debate.
MP Rajapaksa in a tweet said "With respect, how can you be focusing on political debates in the midst of devastating floods the people in Sri Lanka are facing? For the past three years, you have been so focused on criticizing Mahinda Rajapaksa that you have forgotten to fulfill promises made to the people,"
Minister Samaraweera said yesterday that he would like to invite former President Rajapaksa for a public debate on national debt stock and debt servicing as the former Finance Minister.