---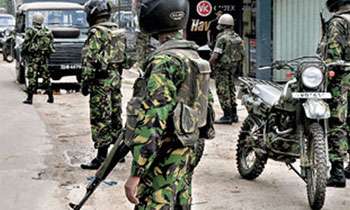 Close associate and a financial handler of notorious underworld kingpin Makandure Madush, his associate and wife of well known drug kingpin Devundara Chamil were arrested by the Police Special Task Force during a raid in Pettah.
The suspects were arrested on charges of drug smuggling and possession of heroin.
Investigations revealed that Madush's associate, known as Akila had been involved in drug smuggling and financial activities of Makandure Madush. The suspect was charged for the possession of 7,700 milligrams and officers also took into custody two pass books and three mobile phones in his possession.
Officers also recovered 2,590 milligrams of heroin from, Ishanka Savithri who is also the paramour of Akila. A car, an apple iPad and iPhone belonging to suspect were also taken into custody.
The raid was conducted on Saturday night following intelligence received from STF sources, officers said.
The suspects were handed over to the Organized Crimes Prevention Division for further investigations. (Darshana Sanjeewa)