---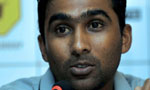 Terming Sri Lanka Cricket President Thilanga Sumathipala's suggestive remarks 'laughable', former Sri Lankan captain Mahela Jayawardane stated his work with the England centered around player development and not sharing tactical information.
"England didn't hire me to give information on the Sri Lankan team. They have analysts and coaches to do that," Jayawardene was quoted as saying by ESPNCricinfo on Saturday (27). "The pools hadn't been decided when I agreed to do it. My role with England is to help develop their cricketers, and to help with how they should approach different challenges - like playing spin," he said.
"There are also a lot of new players in this Sri Lanka team that I haven't played with. But even for the guys like Angelo Mathews, or Lasith Malinga, or Dinesh Chandimal, isn't the challenge to keep evolving? Graham Ford (Sri Lanka's head coach) has worked at Surrey with Jason Roy - the England opener - for the last three years. I guess that would be unethical as well. In my heart I've had Sri Lankan cricket right at the top, but I'm also a professional," Jayawardene said.
The former Sri Lankan captain had worked in close association with the SLC for nearly a year on the revamp of Sri Lanka's domestic cricket before it was scrapped by the new administration. Subsequently, he took up a consultant's role with the England and Wales Cricket Board (ECB) ahead of the Three Lions' tour of the UAE in September 2015, with a key focus on improving England's play in the spin conducive surfaces of the sub continent.
This position was extended to include 10 more days of batting consultancy during the World T20, where spin is once again expected to play a significant role. This assignment with a 'rival team' drew the ire of SLC's chief, who believes Jayawardene should not have been allowed to take up such a position within two years of his international retirement, considering England will face holders Sri Lanka in the group stages of the tournament.
"I'm very disappointed that a national captain, within a few months of retirement, has been retained by another team at a World Cup," Sumathipala had said on Friday. "You could go to a club, a province, an IPL kind of team, or a county. But this is a World Cup. You can't have a player who has just left your country's team joining a competitive nation.
"All the contracted players who are playing, once they retire from the game, should have at least 24 months before joining another team for giving advice or coaching."
The Jayawardene-coached England side will take on Sri Lanka in a Group 1 World T20 encounter at the Feroz Shah Kotla in New Delhi on March 26.