---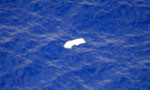 Human remains recovered following the crash of EgyptAir Flight 804 suggest there was an explosion on board, a senior Egyptian official reportedly said Tuesday.
Investigators are trying to piece together what brought down the airliner as it traveled from Paris to Cairo with 66 passengers and crew last week.
The senior Egyptian forensics official, who spoke on condition of anonymity, told The Associated Press that 80 body parts he examined at a Cairo morgue suggest there was an explosion on board.
He said the remains were small and "there isn't even a whole body part, like an arm or a head." The source added: "The logical explanation is that it was an explosion."
NBC News was unable to immediately reach Cairo's Zeinhom Morgue on Tuesday and could not confirm the official's remarks.
France's BEA air accident investigation agency declined to comment on the AP's report. A spokesperson told NBC News on Tuesday that only Egyptian officials would be able to make a statement as they were heading up the investigation.
The AP's report comes one day after Egypt's aviation minister told NBC News that it was "way too early" to speculate about the crash.
The wreckage and body parts would "have to go through...lots of analysis and tests in order to draw even preliminary conclusions," Sherif Fathy said. "For the time being ... [we] don't have much to draw any conclusions."
An international search effort involving ships, planes and a submarine has recovered debris and body parts from the Mediterranean Sea north of Egypt's coast.
Fathy initially suggested that terrorism was the most likely cause, but officials have since sought to quell speculation as to the reason behind the crash.
"We're far away from closing in on the fuselage of the aircraft," he said Monday. "What we found is only small pieces and there's a lot to be done in this respect." (Source: abcnews)