---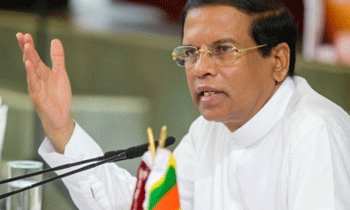 President Maithripala Sirisena, addressing the National Vap Mangul Ceremony, said today that the duty on agricultural technology equipment would be removed soon.
The National Vap Magul Ceremony was launched near the Thibbotuwawa Tank in Kekirava this morning under the patronage of President Sirisena.
President Maithripala Sirisena said the previous governments did not have clear Housing or Agricultural Policies and as a result the country is witnessing the destruction of vast swathes of paddy and coconut lands to be used for housing projects.
He said this had contributed to a shortage of coconuts and rice forcing the government to import these commodities.
The President said politicians and public servants have permitted businessmen to purchase these lands for housing projects and this is why it was vital for the government to introduce housing and agricultural policies to stop this kind of destruction before it gets even worse.
The President said most other countries in the world have such policies so that and houses can be only built in areas demarcated for housing construction.
"In Sri Lanka millions of metric tons of food items such as paddy, rice, vegetables, fruits and other crops are destroyed by monkeys, elephants, wild boars and peacocks. The damage they cause is huge," he said.
The President said in the wake of the National Food Production campaign, the government would not permit any state institution to have uncultivated land and all heads of government institutions are required to identify such lands and use them for food, vegetable, fruits or alternative crop cultivation and provide a monthly report on the progress.
"There are cultivatable lands belonging to the rich people in Colombo. They sometimes do not even visit those lands. The Ministry of Agriculture, Mahaweli Development Authority and other State institutions involved in food supply will cultivate 800,000 hectares with paddy in the Mahaweli zones alone during the Maha season. To ensure the success of this campaign, the 2018 Budget will give tax relief to farmers for the purchase of agricultural equipment and machinery like tractors, water pumps, etc.," he said.
"This campaign is not a government endeavour or a party effort. It is a national movement aimed at improving the per capita income of farmers and their social status, to double the annual food production and put an end to food imports. The huge drought flash floods that devastated this country during past one and half years have severely affected food production compelling the government to import 500,000 metric tons of rice. The high price of coconuts has also been brought down with the involvement of the CWE. But if we do not find a sustainable solution to successfully handle food production notwithstanding whether there were floods or droughts, Sri Lanka would never be able to achieve self sufficiency in food and sustainable development," he said.
The President said this was a good opportunity for those who display posters, stage protests, launch strikes and picketing against the government and disrupting public life because they can join this noble campaign and become partners of development and contribute to the welfare of the people and farmers in particular.
He said the history of mankind involved a constant struggle with the nature.
"Floods, droughts and landslides are not restricted only to Sri Lanka. Other countries in the world have suffered more from natural disasters. The US, EU countries and Asia have been devastated by natural disasters this year leaving thousands of people in various degrees of destitution or degradation," the President said.
Agriculture Minister Duminda Dissanayaka and Deputy Minister Wasantha Aluwihare also spoke. (Sandun A. Jayasekera reporting from Kekirawa)