---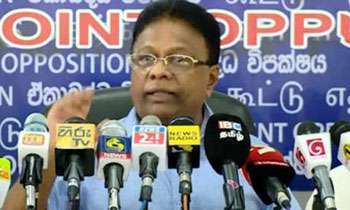 In a last minute attempt of survival, the Government had started listening in to phone conversations of, not only its political opponents but also Ministers, who were criticising the Government, the Joint Opposition (JO) charged today.
JO National Organiser Dullas Alahapperuma said a special Police Unit headed by a DIG had been established by the Government to tap into people's phone conversations and latest hi-tech equipment had been brought down from Japan for the purpose.
"The Unit is based in Nugegoda and it has been directed to tap into phone conversations of JO MPs, Heads of Media institutions and even some Police personnel," he said.
"Minister Rauff Hakeem, who expressed opposing views over the electoral system, had also been listed as someone whose phone conversations should be tapped into," the MP told a news conference.
He said these were signs of the Government heading towards a Gestapo-like administration, which prevailed in Nazi Germany.
The MP warned that the JO would keep a tab on Government officials, who would commit wrongdoings under the directives of political authority.
Meanwhile, he said Parliament and Speaker could learn lessons from the Indian Lok Sabha, where there was no Opposition Leader because no opposition political party had collected more than 10 per cent of seats in Parliament.
"In our Parliament, the Opposition Leader post has been given to the Tamil National Alliance (TNA), a party which has only seven per cent of seats in Parliament.
"The JO has more than 30 per cent of seats, but still the Speaker hasn't given us the post of Opposition Leader," he said.(Lahiru Pothmulla)
Video by Buddhi