---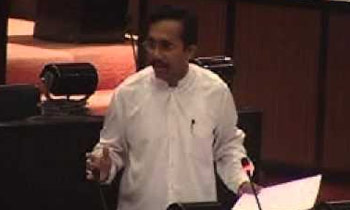 The Disaster Management Centre (DMC) has confined itself to distributing relief whenever there is a disaster and had kept away from its main duty of preventing such situations, Janatha Vimukthi Peramuna (JVP) MP Sunil Handunetti said yesterday.
He said DMC had failed to save people's lives from the recent floods and landslides.
"The number one priority should be to save lives while the saving of property comes next. However we failed to see these institutions doing this during the recent disaster" the MP said and added that Sri Lanka had no mechanism to check the smooth flow of water from the main rivers into the sea. He said water from 15 main rivers did not flow into the sea as it should.
The MP said none of the divisional secretariats which was affected had a boat to be used in rescue operations.
Joint opposition MP Dallas Alahaperuma said function of preparing and publishing weather forecasts should be outsourced because the Meteorology Department had failed to perform its duties effectively.
He said it was the societal machinery which went into action on the onset of the disaster while the state machinery went into action much later. "Politicians and media also went into action before the State" he said and added that the long-term programmes launched during the tenure of the former presidents, J R Jayewardene and Mahinda Rajapaksa should be continued. (Yohan Perera and Ajith Siriwardana)