---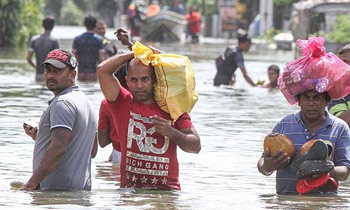 China responded to flood disaster in Sri Lanka by committing to donate relief items worth of US 2.2 million, a statement said today.
The relief goods, to be dispatched to Colombo by a chartered flight soon, include tents, blankets, sheets, rain boots and life jackets.
Chinese President Xi Jinping and Premier Li Keqiang sent condolence messages to Sri Lankan President Maithripala Sirisena and Prime Minister Ranil Wickramasinghe respectively on the loss of lives and property in floods and landslides caused by heavy rain.
The Chinese embassy in a statement said, "On behalf of the Government and people of the People's Republic of China, the Chinese leaders extended sympathy and condolences to the Leaders, Government and people of Sri Lanka. The Chinese Government will give full support to the disaster relief operations of the Sri Lankan Government. We believed that under the leadership of the Sri Lankan Government, Sri Lankan people will surely conquer the disaster and rebuild the homes at the earliest possible date.
Meanwhile, the Red Cross Society of China also granted US $ 100,000 emergency humanitarian cash assistance to the Sri Lanka Red Cross Society for their disaster relief efforts.
Chinese enterprises and overseas Chinese in Sri Lanka will also try their best to help the disaster affected people through donation and other means, the statement added.