---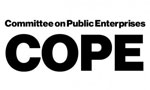 The Parliamentary Committee on Public Enterprises (COPE) is divided on the controversial bond issue, informed sources said yesterday.
"Some members hold a moderate view on the subject, others support the Central Bank Governor and yet others oppose him," the sources said.
The sources said this would create a crisis within the committee.
The Janatha Vimukthi Peramuna (JVP) is of the opinion that taking action against the Central Bank Governor is not within the scope of COPE, and that the purpose of COPE is to monitor and look into public enterprises.
JVP leader Anura Kumara Dissanayake expressed this view on behalf of his party and said they should not pass the buck to COPE as it was the duty of the President and the Prime Minister to take action regarding the Central Bank Governor. (Yohan Perera)