---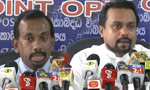 The Joint Opposition today said the Budget 2017 was an outcome of United National Party (UNP) policies but not from the Sri Lanka Freedom Party (SLFP)'s, even though the Yahapalana Government claimed to be a combination of both parties.
Addressing a media briefing, Joint Opposition member MP Mahindananda Aluthgamage said the policies such as privatization of state resources and burdening people with taxes were the concepts and economic structures included in the UNP political views.
"The budget proposal made on last Thursday was the final budget of this government. This is the final phase of the Yahapalana Government. They would not be able to rule the country any longer since the people had lost their faith in the Prime Minister and the Finance Minister with their actions," he added.
Meanwhile, addressing the media briefing, Joint Opposition MP Wimal Weerawansa said the government would be toppled in the near future with the change of the people's attitude towards the government.
He said the people would be against the government similar to the way the Sri Lankans turned over the British rule in 1818 and added that the main reason for it would be the unbearable taxes and proposals included in the Budget 2017; "There is no body to govern this country and the government is in a mess," he added. (Kalathma Jayawardhane)
Video by Sanjeewa