---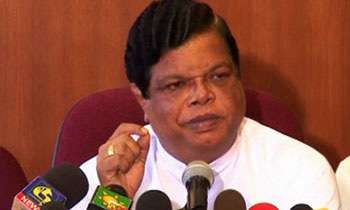 The expenditure head of Prime Minister Mahinda Rajapaksa cannot be blocked because the funds for the Prime Minister's Office has already been approved in this year's Budget, Minister Bandula Gunawardane said today.
He said once funds were allocated for each ministry through the appropriation bill and passed by parliament, the funds could not be suspended or removed.
"The United National Front (UNF) handed over a motion to suspend the expenditure head of Prime Minister Mahinda Rajapaksa. However, once funds are allocated to a ministry and approved by the budget, no one can change it. Not even the Finance Minister can do this. Since the budget for this year has already been approved, nothing can alter it till the end of this year," Mr. Gunawardena told a news briefing.
He said no motion has been submitted to Parliament in the past urging the suspension of funds allocated to a ministry. "Even if someone presents such a motion, it should be done constitutionally and legally. The UNF submitted motion without following any parliamentary procedures," Mr. Gunawardane said.
He said there was no issue in repaying international loans. "Sri Lanka has to repay US$1,000 million in January next year as debt repayment. Settling these loan instalments is the responsibility of the Central Bank and its officials are fulfilling their duties irrespective of the political situation in the country. As a country, Sri Lanka has never refrained from repaying its debts," Mr. Gunawardane said. (Lahiru Pothmulla)