---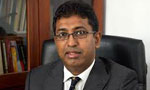 The British exit from the European Union would negatively affect Sri Lankan economy as fluctuation in the share markets in Europe and Asia had begun to occur in the wake of the Brexit, Deputy Foreign Affairs Minister Dr. Harsha de Silva said yesterday.
Dr. De Silva said the instability of the British economy and devaluation of the sterling pound would negatively affect our exports as 35 per cent of the Sri Lankan export to Europe was going to Britain.
"Our exports to Europe is 30 per cent and 35 to 40 per cent of it is going to Britain. Even if we obtain GSP+, we would not be able to gain the full advantage of it as we would not b able to export to Britain without export duty," he said.
Dr. De Silva said the Sri Lankan Ambassador to Britain yesterday handed over the documents necessary to gain GSP+ in Brussels and the decision regarding it could be expected within six months and added that Rs. 25 billion loss had been incurred due to the non-availability of the GSP+ during the past years.
He said the instability of the British economy would also affect tourism industry in Sri Lanka as 25 per cent of the tourist arrivals from Europe were from Britain.
"The British tourists are the ones who spend most in Sri Lanka and the collapse of the Pound will result in their purchasing power," he said.
He said the Brexit would also negatively affect the cost of servicing the foreign loans that had been obtained by Sri Lanka as the US$ would increase in the world market and added that the loan interest in the world market would increase, which would affect negatively in obtaining commercial loans.
Dr. De Silva said due to the instability in the British economy, Britain would have to reach in trade agreements with most countries and that Sri Lanka would also have to fast track trade agreement with India, China and other countries in such a situation.
When asked about the campaign by some Sri Lankan politicians against the Brexit, he said they had discussions only with Sri Lankans living there and that it was informal and added that it was not in support of British Prime Minister David Cameron. (Ajith Siriwardana)
Video by Indika Sri Aravinda