---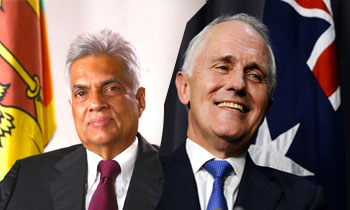 The Human Rights Watch (HRW) said it hoped Australian Prime Minister Malcolm Turnbull would ask some hard questions about the accountability measures taking place in Sri Lanka, beyond friendly cricket matches, with the visiting Sri Lankan Prime Minister.
Issuing a statement yesterday, HRW Australia Director Elaine Pearson said victims and their families still await justice seven years after the horrific end to Sri Lanka's long civil war.
She said the Sri Lankan government agreed to the 2015 UNHRC resolution that mandates the creation of various transitional justice mechanisms, including a way to provide accountability for war crimes that envisions international involvement.
"This was a positive change in approach, and next month the Sri Lankan government is due to report on what progress it has made. Certainly there have been a number of positive developments in Sri Lanka. Civil society groups are once again able to speak out safely on issues of concern," she said.
However, while progress has been made in many areas, key commitments have not been met, she said.
She said the draconian Prevention of Terrorism Act (PTA) remains in force and there have been several arrests under this law in the past year.
"Moreover, many people imprisoned under this law were charged after allegedly being tortured to confess. The government has still not put forward a plan to provide redress for those unjustly detained under the PTA,"Ms. Pearson said.
She said a government appointed task force reported in January that communities favour international participation in a justice process. Despite its inclusion in the Human Rights Council resolution, President Maithripala Sirisena has increasingly spoken out against foreign judges and other international involvement.
"Australia has a mixed record on Human Rights Council resolutions promoting human rights in Sri Lanka. It seems that Australia sided with the previous Rajapaksa government in opposition to earlier resolutions largely because of border security. According to Prime Minister Ranil Wickremesinghe, the Australian government's silence on rights abuses was the price it paid to secure cooperation from the Rajapaksa government on stopping asylum-seeker boats. However, with the election of a new government in Sri Lanka, Australia changed its tune and was among the co-sponsors of the crucial 2015 resolution," Ms. Pearson said.
With Australia vying for a seat at the UN Human Rights Council in 2018-2020, she said the international community will be taking particular interest in whether it supports human rights in the Asia-Pacific region.
"Turnbull should urge Wickremesinghe to ensure that victims – who have given testimony to several official commissions, braved surveillance and threats, and waited for information about missing loved ones – get the answers they have long been seeking, and that it happens as soon as possible.
Foreign judges and prosecutors can play a significant role in ensuring independence and impartiality in accountability mechanisms for wartime abuses. Turnbull would do well to offer Sri Lanka help in this regard and, given Australia's long friendly relations and Commonwealth status, Wickremesinghe might just accept it," the HRW Director said.