---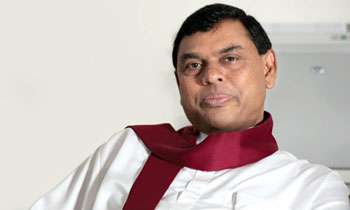 The Colombo High Court's hearing of the case against former Minister Basil Rajapaksa and Former Divi Naguma Director General Kithsiri Ranawaka was postponed for March 28 due to a stay order issued by the Court of Appeal.
Earlier the Court of Appeal had restraining the hearing of the case before High Court Judge Gihan Kulatunge until the Appeal Court pronounce its decision on request made by Rajapaksa's Counsel to transfer the case from High Court Judge Kulatunge to another court.
In this case the Attorney General had filed indictments against former Minister Basil Rajapaksa and former Director General of Divi Neguma Department Kithsiri Ranawaka in the Colombo High Court for allegedly printing 5 million almanacs with the image of former president Mahinda Rajapaksa, at the cost of Rs. 29.4 million to be used during the Presidential Election.
The suspects Basil Rajapaksa and Kithsiri Ranawaka are accused for misappropriating Rs.29.4 million of funds belonging to Divi Neguma Department.
The Attorney General had indicted the two accused for printing almanacs between 23rd November and 31st December 2014, in order to propagate the candidature of Mahinda Rajapaksa in the Presidential Election.
The AG assert that the accused had violated the Presidential Election Act by printing the almanacs.
They were further charged under the Public Property Act for misappropriation of public funds. (T. Farook Thajudeen)