---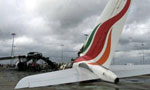 The hearing of the Katunayaka Air base attack by the LTTE that damaged and destroyed 40 aircraft, helicopters and Airbuses in July 24, 2001 was fixed for July 29, 2016, the Colombo High Court Judge said today.
The accused, who were indicted with 311 charges for conspiring between October 01, 2000 and July 24, 2001 to destroy fighter aircraft at the Airport attack were Ratnasingham Pushpakumaran alias Ponnadurei Nirmala Ranjan alias Masoor, Victor Alfred Dominik, Subramaniam Nawarajasingham, Nagendran Nagaratnam and Tanabalasingham Jayalaxmi.
They were also indicted for aiding and abetting to kill seven airmen and causing injuries to another 14 airmen and soldiers causing injuries by shooting.
During the attack two Kfir aircrafts, one MIG aircraft, three K-8 aircraft and two MI-17 helicopters were destroyed. (T. Farook Thajudeen)