---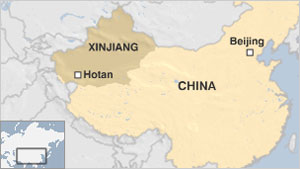 Chinese state media says 17 people, including 12 children, have been hurt in an explosion at a religious school in the restive Xinjiang province.
The blast took place during a police raid on an "illegal" school on Wednesday, the Global Times reported.
An overseas rights group told BBC Chinese that paramilitary troops had used tear gas.
The injured children "suffered mild burns". Police "rescued" another 54 of them, Chinese state media said.
The authorities said they had received a tip-off from a parent whose child was being held at the Koran teaching centre in Hotan city, located on the fifth floor of a residential building, according to the Global Times report.
When police arrived at the scene, the suspects lit home-made explosives that sparked a fire, said the report, citing Hou Hanmin, chief of the regional information office.
A spokesman for the World Uighur Congress, a German-based exile group, said "both sides were involved in a clash" at the school which was teaching the Koran.
''Authorities used tear gas causing injuries on both sides," said the group's spokesman Dilxat Raxit.
Uighur grievances
Almost half of Xinjiang's residents are Uighurs, Turkic-speaking Muslims with cultural and ethnic links to Central Asia.
China claims it faces an organised terrorist threat from radical Muslims in Xinjiang, but Uighur activists say citizens are angry at Beijing's heavy-handed rule in the region.
The Chinese government only permits a small number of licensed religious schools and has recently stepped up a campaign against unlicensed schools in Xinjiang.
Nine men were sentenced to jail for between six and 15 years last month in Kashgar for charges related to illegal religious teaching, said an Associated Press report.
Uighur allegations of discrimination and marginalisation have been behind anti-Han Chinese and separatist sentiment in Xinjiang since the 1990s.
Security has been high in the north-western province since riots in 2009 in the capital Urumqi between Uighurs and Han migrants.
Nearly 200 people were killed in that unrest, most of them Han, according to officials.
Further violence broke out in July 2011 and left 32 people dead.

(Source : BBC)