---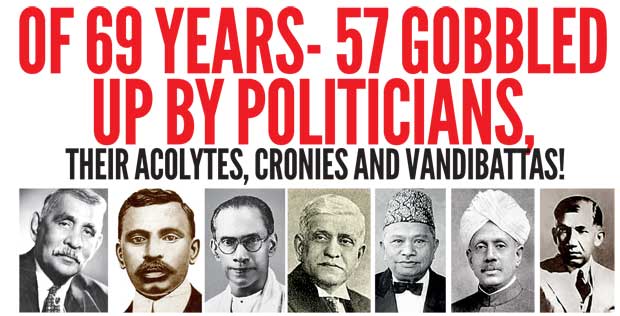 Corruption which was sweeping into the body politics unreservedly grabbed a fair portion of Independence; and continues to do so. Allegations of corruption, scandals and scams running into Billions that have been levelled against successive Governments in the past few decades far superseded the first 12 years, when Some Ministers were accused of accepting a bag of chilies or rice and other small gratifications, for which they had to pay the price.
On February 4, 2017, we commemorated the 69th anniversary of the achievement of independence from colonialists. We are yet to see the signs of a prospective developing nation towards an independent, free and a sovereign society following 443-year foreign domination. Since the time of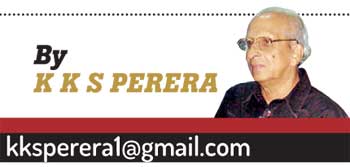 our first King Vijaya, this resplendent country, thrice-blessed by the Buddha, has a recorded history of more than 25 centuries, and a proud tradition. D S Senanayake, the first Prime Minister of Independent Sri Lanka, unfurled the Lion flag, the symbol of an ancient civilization, marking our freedom from the clutches of Colonial rule. The leadership in the path to independence, in the form of D.S. Senanayake, F.R. Senanayake, Sir D.B. Jayatilleke, Sir Ponnambalam Arunachalam, Sir Ponnamabalam Ramanathan, S.W.R.D. Bandaranaike, T.B. Jayah and D.R. Wijewardene were among many others worked together successfully with great insight and grace so as to achieve freedom.

From Bags of Chilies to Billions: Achievement of the past Six Decades
The unprecedented happening in India as analysts point out; the Congress and the BJP are having a long and tacit understanding to suppress each other's money-making tricks and private 'businesses'— are those 'deals' that our media often cries about here, is a result of emulating the Indian model by our rulers and opponents? Bribery and corruption has become the order of the day.
Very few would remember with gratitude the great men of the calibre of U.B. Wanninayake, M.D. Banda and Forester Obeysekera, the early UNP stalwarts. Then Finance Minister Wanninayake declined to give a certificate to his own son for his interview at the Central Bank. Mr. Banda refused to use State funds to get an electricity connection to his ancestral home unless the department agreed to provide electricity to the entire village; he was seen running about in his old car until his death. Mr. Obeysekera, rejected a plea to give a testimonial to the son of his closest supporter. He said it will be against his conscience to give a certificate to a person he had not known.

Earliest Recorded Action Against corrupt Legislators
Governor Sir Andrew Caldecott appointed a Commission to investigate bribery among State Council members; Lawyer L M D de Silva, the one-man commissioner found eight members guilty of corrupt activity. While three of them were appointed by the Governor himself, the other elected men were, E W Abeygoonesekara [Nuwara-Eliya], A H Gunasekara [Balangoda], D D Gunasekara [Bandarawela], U Batuwantudawa [Kalutara] and E R Thambimuttu [Trinco-Batticaloa]. The first seven resigned immediately. Thambimuttu was removed by a motion moved by DS Senanayake, the Leader of the House. [L M D de Silva - KC, also served as a member in the Privy Council in Britain]
On September 11, 1959, a few days before his assassination, Prime Minister, SWRD Bandaranaike advised G.G. Ponnambalam to appoint the Thalgodapitiya Commission to inquire into allegations of bribery and corruption against his government's parliamentarians, including some members of the Cabinet. The report tabled on Decenmber 16, 1960, found two of SWRD loyalists, D B Monnekulame and C A S Marikkar along with H Abeywickrema, M P de Zoysa, M S Kariyapper and R E Jayatillake guilty. Prime Minister Sirimavo Bandaranaike was lenient with the offenders. However, they were punished under the UNP-led National Government of Dudley Senanayake in 1965. Kariapper who was a MP then lost his seat and all six lost their civic rights for seven years. Monnekulama later told his constituents that he took small 'santhosams' for the work he did.
During the JR Presidency, Anura Daniel Deputy Minister was arrested at the Airport for smuggling gold bars and lost his seat. UNP nominated his sister to contest the same seat and Anura Daniel was the chief campaigner; Miss Daniel won with a huge majority over her SLFP rival. Voters sometimes do behave in a peculiar manner. The Bribery department was converted to a Commission to eradicate and inquire into Bribery and Corruption in the 1940s. During Sirimavo's 1970-77 rule, there were allegations of SLFP Ministers taking bribes even as low as five hundred rupees, and most teacher appointments 'interviews' were held in Rest Houses.

There were serious allegations of corruption against most of the senior Ministers of J.R Jayewardene's Cabinet. JR was like Rajapaksa; he did not oppose corruption. They both collected material on corrupt activities of their men and kept them safe in a give and take policy with a warning 'do not rock the boat'. President Premadasa in 1989 smelt that some of his top men were conspiring against him. He hired former Police Commissioner A C Lawrence to investigate corrupt activities of the suspicious characters in his government.
When the Impeachment motion was moved against him in 1992, it contained very serious allegations of corruption. Premadasa supporters made equally strong allegations against Gamini Dissanayake and Lalith Athulathmudali, the architects of the Impeachment. The allegations referred to apple orchards in Australia, Swiss bank accounts, Airbus purchase, Argentine Ships [that never sailed] and Mahaweli Scams. However, the Motion failed as Speaker M H Mohamed switched loyalty at the final hour. [Mohamed was accused of accepting a huge santhosam from a big influential businessman in the city] Allegations against the two smart politicians, Lalith and Gamini were never proved.
"The leadership in the path to independence, in the form of D.S. Senanayake, F.R. Senanayake, Sir D.B. Jayatilleke, Sir Ponnambalam Arunachalam, Sir Ponnamabalam Ramanathan, S.W.R.D. Bandaranaike, T.B. Jayah and D.R. Wijewardene were among many others worked together successfully with great insight and grace so as to achieve freedom. "
During the Premadasa regime in 1989-1993, the State banks were ordered to release millions as loans to cronies without collateral. CBK's election slogan "Dooshanaya and Beeshanaya cried foul of these alleged corruption. People saw a completely new face in CBK; she promised that politicians who engaged in corrupt activities would be brought to the Galle Face Green for public execution. At the end of her second term, they spoke of 'deals' involving her office in prime state lands, leading to punitive action against her by Courts soon after her retirement.

People always wanted 'a Change': Pot Calling the Kettle Black
It was Theodore Roosevelt , who once commented, "When they call the roll in the Senate, the Senators do not know whether to answer 'Present' or 'Not Guilty'." Clearly the people always wanted a change. The Bribery and Corruption Commission has not produced a single Member of Parliament or any government Minister in Court since 1960. The first and the last punitive action against politicians was in the first 12 years of post-independence Sri Lanka. May be that the Bribery Commissioners did not want to impartially investigate cases concerning the allegations of corruption of Parliamentarians. Those who make indictments against the men in power alleging corruption are the ones who were equally corrupt or more corrupt when they were in power; and with absolute power at their disposal, they would yield to such temptations. Today a good percentage of Politicians of both the big parties are corrupt to the core. The Government has got into dire financial straits due to the robbery and plunder of state property by the politicians, and their Cronies and Acolytes who have been ruling the country during the past few decades.
A Bribery and Corruption Commission or a Special Presidential Commission cannot grapple with this problem. The people should fight politicians irrespective of their party loyalties to make them accountable. Walter Thalgodapitiya Commission - 1959
Bandaranaike, unlike most leaders decided the time had come to act. He advised the Governor General to appoint a Commission and wanted even the members of the State Council and all the governments of the post independence, from 1943 up to September 11, 1959 investigated. Commissioners received a large number of anonymous petitions against politicians and members of their families. But there wasn't a single petition against the left leaders. The report commented on the reluctance of the persons to come forward with information. "Reasons for the reluctance were fear of reprisals and the fact that persons who had given bribes were reluctant to come forward," it said.
As per the report of the Commission which was tabled on the 16th of December 1960, one of the most Seniors Ministers was accused of accepting a bag of chilies and others with bags of rice and other commodities in return for small favours like jobs in the state sector. The position today is frightening. Corruption, theft and looting by politicians have achieved unprecedented proportions over the past 57 years, the hunger for wealth of powerful persons is astonishing. This situation needs to be arrested before the voiceless majority goes starving. We hear about extensive financial scandals running into Billions performed at high echelons while the political authority turns a blind-eye, or more surprisingly, aiding and abetting them, while the public are suffering under heavy economic conditions.
Thomas Love Peacock, the English novelist, poet, and official of the East India Company of 19th century once asked,
"Is ours a government of the people, by the people, for the people, or a kakistocracy [his own coining for a state or country run by the worst, least qualified, or most unscrupulous citizens] rather, for the benefit of knaves at the cost of fools?"