---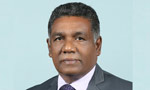 The Government would enact three new Acts, namely the National Security Act, Prevention of Organised Crimes Act and the Intelligence Act aimed at preventing the re-emergence of terrorism, consolidate inter communal harmony, the rule of law and national security, a top official of the Defence Ministry said today.
Defence Secretary Karunasena Hettiarachchi told the Daily Mirror that the Government expected to incorporate some of the provisions of the new National Security Act in the proposed Constitution to make them basic law and the Prevention of Organised Crime Act would replace the existing Prevention of Terrorism Act.
"All these new legislative measures are still in the formative stage and being drafted," Hettiarachchi said.
Commenting on his recent participation at the15th Asia Security Summit, known as the Shangri-La Dialogue representing Sri Lanka last week, Mr. Hettiarachchi said Russia pledged to strengthen bilateral cooperation in the military and technical spheres, when the Russian Deputy Defence Minister Anatoly Antonov met him on sidelines of the Shangri-La Dialogue.
The Russian Defence Ministry in a statement said Anatoly Antonov expressed satisfaction with the results of the bilateral cooperation in the military and technical spheres, focusing on interaction in the Military and Naval field.
Defence Secretary Hettiarachchi reaffirmed the intentions of further strengthening and development of mutual contacts.
"At the meeting the Russian Deputy Defence Minister pointed out the future directions of the Russian-Sri Lankan cooperation, including the one in the field of training of military officers in the educational institutions of the Russian Defence Ministry," he said. Sandun A. Jayasekera