---
At the recently concluded R4TLI 2016 conference held on 4th June at Galadari Hotel-Colombo, the research paper "The Benefits of Container Exchange between Carriers: A Case Study" authored by Lalith Edirisinghe of CINEC Maritime Campus and Jin Zhihong of Dalian Maritime University-China was adjudged the best paper in the Ports and shipping category.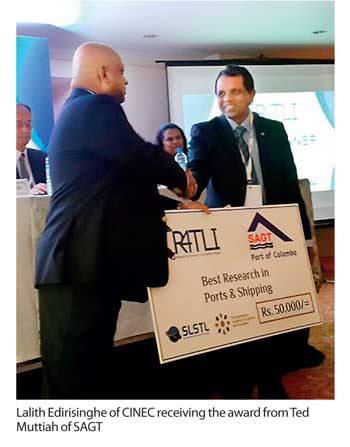 In their research paper Lalith and Jin have critically analyzed the global container inventory imbalance problem and suggest that in Sri Lanka the imbalance could have been reduced by 31,610 containers in 2014 if carriers opted to exchange containers. The estimated saving according to research finding is approximately US$ 12.6 million in Sri Lanka alone. They have further highlighted that Sri Lanka has exported 269,931 TEUs in 2014.

If carriers used the above savings to assist exports from Sri Lanka, freight rates could have been reduced by US$ 47 per TEU. It is evident that the panel of judges have paid high attention to the practical value of the findings of the research as it would help reduce environmental pollution also which is the most critical factor in today's business world for sustainability in addition to substantial cost saving to carriers.

The high performances in the transport and logistics industry heavily depend on the necessary application of the theories into practice. Therefore researchers play a major role in educating and making awareness in the industry the most effective solutions to the burning problems in the industry. R4TLI has really understood this reality the need of the hour that industry associations, professionals, and academia develop a strong platform to achieve these goals.

CINEC Maritime Campus highly endorses the need for research, particularly in the transport and logistics industry, and always comes to synergize the research initiatives.