---
The former Madam who left for her second home abroad returned here recently.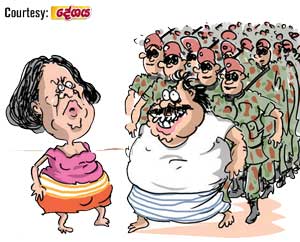 Back home, she lost no time in taking stock of the current political situation in the country. She was quite particular about getting posted about the deposed Big Boss.

She did not conceal her anger when she was told that the 'motley group' in the opposition was going round the country drumming up support for the deposed Big Boss as the Prime Ministerial candidate.

The dowager also inquired about the perks and privileges already afforded to the deposed Big Boss for his comfort and security and what she learnt made her angrier still. She called a bigwig of the main Secretariat and vented her anger on him.

"Why did you assign such a big security detail to him? How is that you assigned more people than I was given when I retired?" she had asked. The highly disconcerted official listened to the harangue, but hazarded no reply, they say.