---
A prominent top team member, the other day, was discussing the current security threat with several teammates. In fact, this top team member had reason to be more concerned about terrorism than others for he lost the most senior member of his family to terrorism.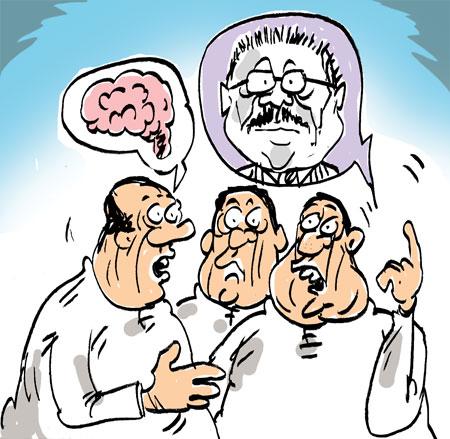 He was telling his teammates that the country had to suffer so severe terrorist bomb attacks due to the weakening of the national intelligence.

Thereafter, their discussion turned to how to strengthen national intelligence. And each of them began suggesting remedial measures called for at this hour.

The party stalwart representing a district in Ruhuna said that the best way to strengthen the country's intelligence wing was to recall to active service the intelligence panjandrums who constituted a formidable power behind the humanitarian operation of the Rajapaksa days.

Another top team member hailing from the South who is widely considered a liberal asked:

"Who are the former intelligence chiefs whom you have in your mind?"

Then the Ruhuna stalwart- the top team member who mooted the discussion rattled off the names of several intelligence high-ups who rendered yeoman service when the country was at civil war.

The 'liberal' from the South who greeted this list of names with derisive laughter said:

"It is better to hand over the country's intelligence to Gota himself than to put it in charge of the persons you have named!"

This statement marked the end of the discussion, they say.