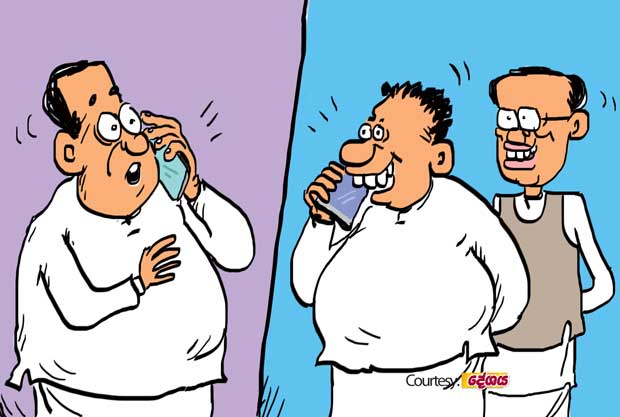 A group of Betel leaf deputy purohitas in yahapalanaya the other day visited the former strongman's second offspring now booked in the state-run lodge at Welikada. The livewires behind this move had a hectic time communicating over the phone with the fellow deputy purohitas of the party in connection with organizing the visit. Meanwhile, a big-mouthed deputy of this group got a call over his mobile from a senior purohita who made it to Diyawanna through the wish-fulfilling list after losing at the last poll.

"Why are you all planning to do this mad thing, Malli?" the senior purohita was saying.

"What is the mad thing you are referring to?" a surprised deputy asked.

"Aren't you all now planning to visit that one at Welikada?"

"Yes, Aiya," replied the deputy. "…We are getting ready to visit him. That reminds me…We visited you too when you were there!"

"Yes. That's true! But Lokka is very angry about what you are going to do. He scolded you all for planning this mad thing!" said the purohita.

"He scolded us? When did he scold us…?"

"He was really shouting in anger… He might react in a worse manner! So you had better think twice before making this visit. I am telling this for your own good with the best of intentions."

The deputy seething with anger exploded: "Aiya, stop telling lies! We are all now at a conference with the Lokka. You are trying to take the entire country for a ride!" The purohita immediately went off the line.

The irony of the situation was not lost on the deputy either. For the purohita who was using his persuasive powers on him was incidentally the one who had been playing an active role to bring about a reconciliation between the Big Two of the Blue party!