---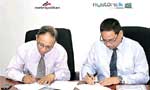 Metropolitan Office (Pvt) Ltd recently entered in to a partnership with Mobitel's MyStore.lk in a bid to offer the latest product range of electronic accessories available at Metropolitan.

The recently launched web portal, MyStore.lk which is set to revolutionize the online shopping experience of customers will offer a range of well-known branded products from Metropolitan such as Canon Cameras and Printers, Acer Laptops, Tabs among many other electronic accessories.
The online store known as a onestop shop catering to an array of electronic, household appliance and furniture needs, further extends the added benefit of delivering products right to the customer's doorstep with convenient payment methods which includes, cash on delivery, Mobitel mCash, eZ cash, as well as credit and debit cards payments. MyStore.lk also offers easy payment schemes in conjunction with leading credit cards and banks.

Mehraj Sally Director Marketing MyStore.lk said "We are extremely happy to have Metropolitan onboard with us. Retail success no longer hinges on physical stores alone, which is evident from the greater number of retailers offering online store interfaces for consumers. Therefore, we are excited about MyStore.lk and expect it to be a huge success amongst our customers. Our aim is to revolutionize the customer shopping experience, and thereby working towards the vision of having the largest online store in Sri Lanka."Taslim Rahaman Managing Director Metropolitan Photohub Pvt Ltd said "We believe this partnership will help take the global technology that Metropolitan offers to the doorsteps of every citizen."