---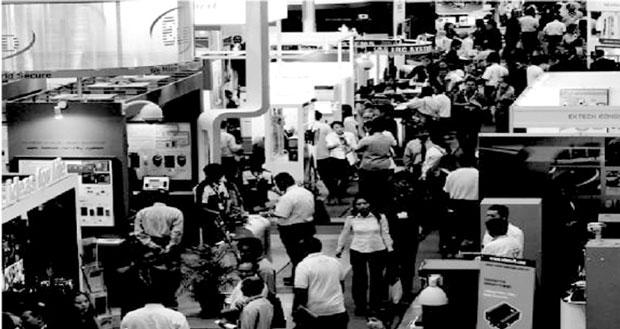 Sri Lanka's biggest '4-in-1' international exhibition LankaBuild'17, LankaWater'17, LankaEnergy'17 and SIVAR'17 will come to life at the SLECC (near Lake House) from today to 12 August.

The industry personals, who are looking for new ideas, new technology and new solutions for their building, water treatment, electrical and HVAC needs, '4-in-1' international exhibition on construction technology will be the real answer. Over 150 companies and brands from 14 countries including China, India, France, USA, Malaysia, Thailand, Taiwan, Germany and Singapore will showcase the latest ideas, solutions and innovations for architects, developers, contractors, M&E engineers, water consultants/engineers, manufacturers, HVAC engineers, agents and distributors - all under one roof.
"By bringing four key exhibitions, LankaWater'17, LankaBuild'17, LankaEnergy and SIVAR'17 together under one roof, it is a cost effective way for those in the industry to see a comprehensive range of technology, equipment and supplies" said AMB Tarsus Events Group Director Andrew Siow. "More importantly, 80 percent of the exhibitors are from overseas and as such, most of the exhibits will be shown for the first time in Sri Lanka. In addition, as the majority of overseas exhibitors are manufacturers, visitors can source directly and seek solutions from the experts face-to-face." Exhibits on show include water treatment and filtration equipment, RO/UF membrane, pumps, valves, pipes, electrical installations including transformers, meters, cables, switch-gear, solar power, hardware, building and construction supplies including tiles, flooring, glass, safes, concrete batching plants and air conditioning equipment and supplies.

LankaBuild'17 is supported by the Major Constructors of Sri Lanka, National Water Supply and Drainage Board, Water Resources Board, Ceylon Electricity Board, Institute of Town Planners, Central Engineering Consultancy Bureau and will be Officially Opened by Chief Guest City Planning and Water Supply Minister Rauff Hakeem.