---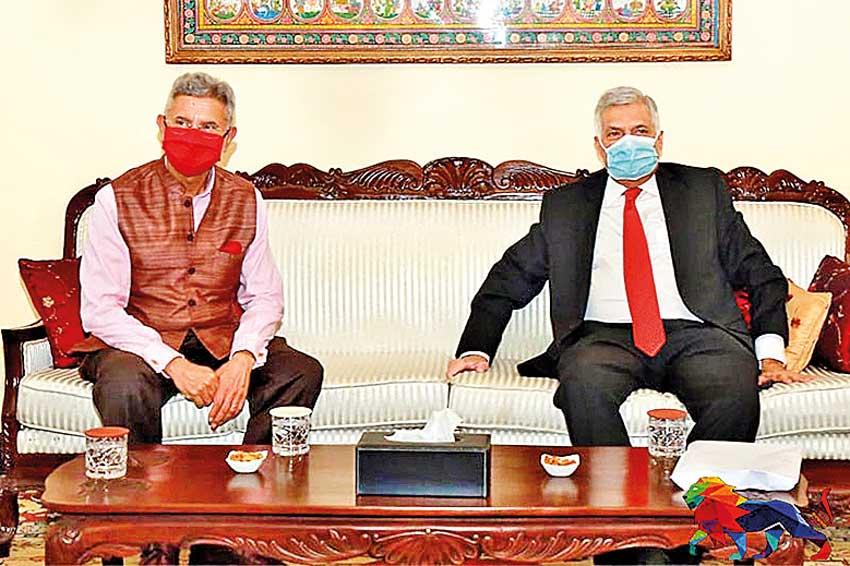 When Indian Foreign Minister Subhramanyam Jaishankar (left) paid a visit to Sri Lanka he made sure he met UNP Leader Wickremesinghe
University academics setting up a collective with Sajith Premadasa as its head suggests there is growing dissent regarding the activities and the elbows out attitude of the government

Sri Lanka as a nation has many challenges this new year and among them is to build a vibrant opposition. We've seen many moves by Saith Premadasa and UNP Leader Ranil Wickremesinghe, but the Government seems to be moving steadily on the path to strengthen its resolve in a forceful manner.

In terms of the role of the opposition mention must be made of a collective formed by university professors and lecturers to strengthen the Samagi Jana Balawegaya (SJB). The Leader of the SJB Sajith Premadasa was appointed to head of this collective comprising university academics.

Peaceful citizens who believe in democracy and consensus would support such a collective. Movements such as this are being set up at this time because there is growing dissent regarding the activities and the elbows out attitude of the government.

Just the other day the government made it clear that issues related to agriculture and villages would be sorted out in keeping with the needs of villagers, not necessarily in keeping with the law of the country.
There are those who point fingers at the opposition for not being aggressive enough at a time where there is a great need to voice concerns regarding two individuals in detention

We also remember the head of state once telling employees of a state institution that there is no need to send written circulars and to take his instructions conveyed verbally as a formal communique. We also witnessed the release of those allegedly accused of crimes thanks to government initiated moves; the latest being former rebel Sivanesathurai Chandrakanthan. He along with four others was acquitted and released of the charges of killing Batticaloa district TNA parliamentarian Joseph Pararagasingam. We also saw the arrest and remanding of politician Ranjan Ramanayake for airing straight forward views about the judges and lawyers in the country; which amounted to contempt of court. Ramanayanake could be one fearless politician in the country who airs his views to put this country in order. But efforts such as the ones made by this artiste can't be expected of Wickremesinghe and Premadasa who are yet to do anything substantial to jolt the government.

We have read newspaper interviews given by Ahimsa Wickremetunga to Sri Lankan newspaper about the investigations into her father's death. She has been rather severe about her comments on the UNP Leader and Leader of the Opposition about the lukewarm interest they've shown regarding the investigations into the slaying of journalist Lasantha Wickremetunga.

Government's critics point out that the opposition is not taking advantage of the mess up that took place with the bringing down of a group of tourists from Ukraine. These tourists violated stipulated health guidelines and apart from that safari jeep drivers who were involved in their tours didn't seem to know about health regulations that were to follow due to a miscommunication. As a result the drivers were placed in a bio bubble and separated from their families, but all that put the tourism authorities and the regime in a spot. This is because the foreign tourists had among them those who had contracted the COVID-19 virus.

There are those who point fingers at the opposition for not being aggressive enough at a time where there is a great need to voice concerns regarding two individuals in detention. One is lawyer and rights activist Hijaaz Hisbullah and the other is poet Ahnaf Jazeem from Mannar. Hisbullah works for the cause of the Muslim minority, but it seems his activities as an activist made the regime uneasy.

Poet Jazeem was arrested on grounds that he was aiding and abetting terrorism and according to newspaper reports the Criminal Investigation Department affirmed that some of his poems refer to ISIS; an international terrorist organisation. The Mawbima weekend newspaper said in its political column last Sunday that when inquiries were made about Hisbulla by Lakshman Kiriella in parliament State Minister for Defence Dr. Sarath Weerasekare had said that politicians should not represent or talk on behalf of people accused of crime, during parliament sessions. It must be mentioned here that political science as a subject teaches us that lawmakers in parliament must represent people from all walks of life and not only 'good' people. Also these lawmakers have the responsibility and duty to ensure that trouble makers or those who have brushes with the law are brought on to the right track or made to honor democracy and join mainstream politics; good examples are Karuna Amman and Douglas Dewananda.

But it must be mentioned here that it is during this regime that people like Staff Sergeant Sunil Ratnayake, who was convicted of the murder of eight civilians in Mirusuvil, Jaffna, was given a presidential pardon. It is during this regime that a priest like Ven. Uvatenne Sumana, who was imprisoned for life for the possession of a firearm during the 2010 Presidential Elections, received a presidential pardon. It is during this regime that former terrorist and now MP Chandrakanthan was acquitted of all charges of murdering parliamentarian Pararagasingam and released from prison. The opposition is not voicing its disapproval strongly enough regarding the law being applied in one way to supporters of the regime and in another way to and opponents and those who criticise the government.

The voices of dissent targeting the government are growing steadily. MP Patali Champika Ranawaka established the 43rd Brigade with the view of bringing together working professionals. There is opposition for Ranawaka's movement and critics state that such a movement might not have political clout. Also former SLFP strongman Kumara Welgama has established an alternative political movement, 'Api Sri Lanka', for leftist politicians. The country's prominent Tamil political parties are also at loggerheads and there is much divisions. The opposition in Sri Lanka seems to be fighting the regime as separate entities.

When Indian Foreign Minister Subhramanyam Jaishankar paid a visit to Sri Lanka he made sure he met UNP Leader Wickremesinghe and Opposition Leader Premadasa; largely because these two figures are important cogs in the opposition wheel and also because Sri Lanka's governments over the past few years have not been stable and have toppled many a times.

At present these two personalities have their own strategies and have raised their voices whenever the regime moves away from the road that we term as 'fair'. In this context this writer wishes to quote an old saying from Rumi which goes 'Raise your words, not your voice. It is the rain that grows flowers, not thunder'.