---
Indo-Lanka Accord' does not describe happiness. It was an agreement that belonged to a different time, a different context and obviously associated with people who have since passed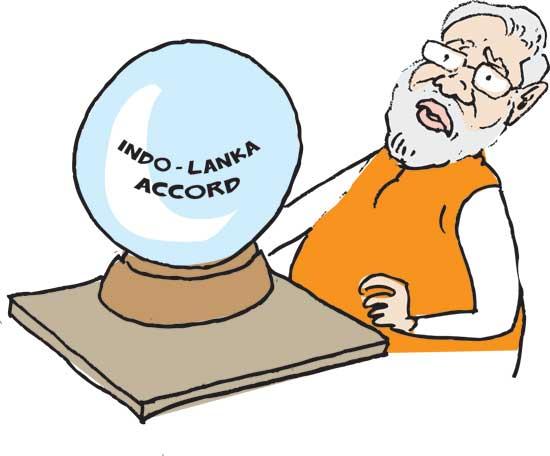 on. The bad taste notwithstanding, the years between 1987 and 2019 haven't been
without their positives.
India helped Sri Lanka's war on terror with intelligence information that were of critical importance. India shared intelligence information regarding the possibility of a terrorist attack on Easter Sunday, but it came to naught due to lack of intelligence at this end. A more recent initiative, 'Suva Seriya,' has been a far more tangible expression of support and friendship.

Moves to obtain agreements, however, have been controversial. India, to her credit, has not pushed the way things were in the eighties. Perhaps, it is the style of Prime Minister Narendra Modi or a shift in the way India perceives 'foreign relations,' but it certainly makes for more healthy bilateral engagement. This is why one could be hopeful that President Gotabaya's visit to India, and indeed his first official visit to another country, could yield positive results and help dispel much of the felt-wariness in Sri Lanka about her immediate and giant neighbour.

For many reasons, not counting the frequently lip-serviced 'historical and friendly relations,' ties with India are of paramount interest to Sri Lanka. As mentioned, India is Sri Lanka's closest neighbour. India is a major trading partner. More than all this, India is the regional superpower and is poised to become a global superpower as well. In short, India has wherewithal.

Gotabaya Rajapaksa would no doubt touch on issues that are of concern to both nations. There are concerns over air pollution from the thermal power plants in South India. More immediate is the issue of harmful fishing practices by South Indian fishermen and the crossing of maritime boundaries. Smuggling and illicit movement of people has always been a problem which could be mitigated with more support from India. India could also offer Sri Lanka some form of observer status with respect to the operation of the Kandakulam Nuclear Reactor.

The previous regime, it is no secret, gambled on the West. The former Prime Minister was compelled to say 'We shall look East' only after Brexit. Well, India is Sri Lanka's 'West' geographically and has been so metaphorically. India could be Sri Lanka's 'East' if the word is used in the sense Mr. Wickremesinghe did, but then again why should there be East or West when any country can be what it is without being told 'this is not what you should be or what you should be doing; instead
do as we say!'?

Prime Minister Modi is a man of conviction and courage. He has the backing of his people. He does what he believes is best for India, whether or not the world understands or appreciates. He would not hesitate to advocate such thinking for friends in his neighbourhood. This should not be lost on President Gotabaya Rajapaksa.
Prime Minister Modi knows what the political cartographers of Britain did to the subcontinent and the blood that has flowed as a result. Surely, he would recognise, in retrospect, the damage India's intervention in Sri Lanka caused. THAT Indo-Lanka Accord, more than anything else, soured relations between the two countries, for what it was and how it was orchestrated.

That's the past. We are in a present, looking to a different future. In an ideal world Sri Lanka would need no better friend than India. Of course India cannot, as of now, be the China that China has been to Sri Lanka, but President Rajapaksa probably understands that India would be less interfering if other nations were not seeking to make and enlarge footprints in Sri Lanka.
It will nevertheless be a give-and-take matter. There are prices to pay whichever course of action one privileges. Prime Minister Modi is not Prime Minister Rajiv Gandhi. President Gotabaya Rajapaksa is not President Maithripala Sirisena. There's reason to hope that a 'Modi-Gota' agreement would make 'Indo-Lanka' something that will not feel, smell and taste bad.