---
The World Medical Association has called on all medical professionals to stop conducting the exams, saying that it is deeply disturbed by the complacity of medical personnel in these non-voluntary and unscientific examinations, including the preparation of medical reports that are used in trials to convict men and transgender women of consensual conduct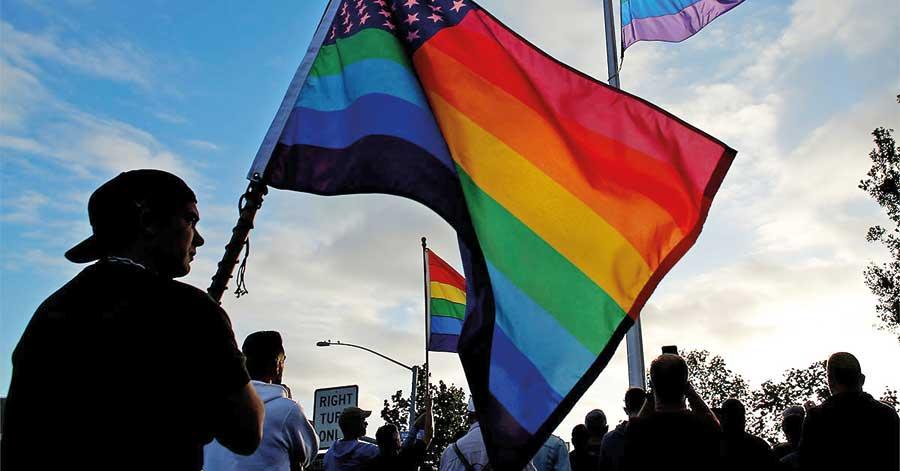 The Justice Ministry employed Judicial Medical Officers (JMOs) and Sri Lanka Police have been accused of conducting degrading anal and vaginal virginity tests on lesbian, gay, bisexual and transgender ("LGBT") Sri Lankans.


In an investigation done by our special correspondent, we can confirm that Judicial Medical Officers and the Police have subjected LGBT people to anal and vaginal examinations by doctors to prove their homosexuality when prosecuting them in Court.
Over the last 3 years lawyers have represented several LGBT people who were subject to forced anal and vaginal examinations by JMOs and the Police. In all the cases referenced, there were no witnesses to any alleged sexual activity and all the accused were fully clothed at the time of arrest.
Gay men whipped with wires
In one case, two of the accused were whipped with wires by the police. They were kept in remand custody for several days and only allowed one two-minute telephone call each.
National STD/AIDS Control Programme (NSACP) revealing HIV results in Court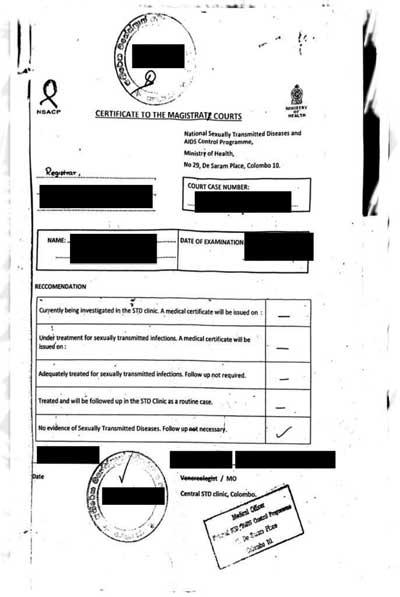 LGBT people have also been forced to undergo HIV tests without their consent and results made public in court. The NSACP, which is subject to strict guidelines on patient confidentiality, violated Health Ministry guidelines by publicly disclosing to the Court, the HIV test results of gay men being prosecuted for consensual relationships.
Transgender men and cis women subject to vaginal examintions
In another case involving a transgender man and a cis woman, the JMO inserted his fingers inside both of their vaginas. The JMO had not sought their permission before he inserted his fingers and when they screamed out in pain asked whether it had hurt.
In that case, doctors also tried to take photographs of their bodies but were denied by the accused. They were then subject to a further physical examination in front of other male doctors and nurses at the hospital by an Obstetrician & Gynaecologist. When they pleaded with the doctor not to repeat the vaginal examination as it hurt, the doctor had laughed and said that he would light a firecracker inside their vaginas instead.
What are anal and vaginal exams?
Forced anal or vaginal exams, which try to find "proof" of homosexual conduct, often involve doctors or other medical personnel inserting their fingers, and sometimes other objects, into the anus or vagina of the accused in an attempt to determine whether the person has engaged in receptive anal or vaginal intercourse. The examinations are degrading, lack any scientific basis and violate all medical ethics.
Anal and vaginal exams have been discredited by world bodies and banned in several countries
The Independent Forensic Experts Group (IFEG), composed of forensic medicine specialists from around the world, has condemned forced anal examinations.
The World Health Organisation has also denounced anal and vaginal exams as a form of violence and torture.
In November 2014, the World Health Organisation also stated that, "There is no place for virginity (or 'two-finger') testing; it has no scientific validity."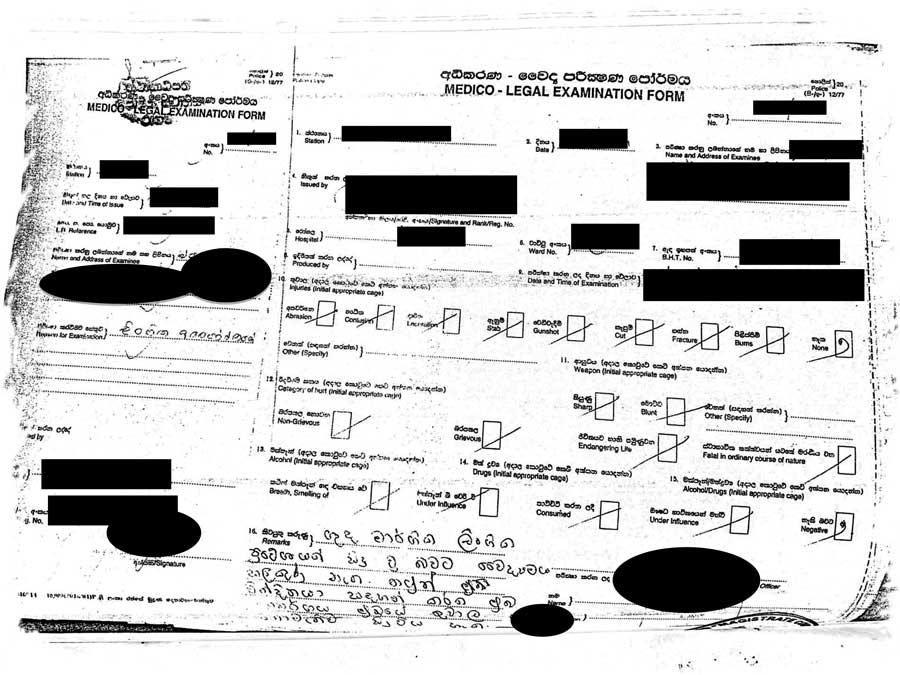 Doctors must stop conducting the exams
The World Medical Association has called on all medical professionals to stop conducting the exams, saying that it is "deeply disturbed by the complacity of medical personnel in these non-voluntary and unscientific examinations, including the preparation of medical reports that are used in trials to convict men and transgender women of consensual conduct." The Sri Lanka Medical Association (SLMA) and thereby all Sri Lankan Doctors, are members of the World Medical Association.
Sri Lanka Medical Council (SLMC) and the SLMA silent on forced anal and vaginal exams by doctors
In 2017, following revelations of anal exams being conducted in Tunisia, The National Council of the Medical Order in Tunisia issued a statement calling for all doctors to cease conducting forced anal and genital examinations.
The SLMC and SLMA are yet to issue a similar statement at the time of writing, despite revelations of these examinations being made over a week ago.
The JMOs who carried out the examinations in Sri Lanka are fully qualified medical doctors, employed by the Justice Ministry, and are bound by standards of medical ethics. Their complete disregard of medical ethics in conducting these examinations calls into question the standards of the medical profession in Sri Lanka.
Examinations violate Sri Lankan and international law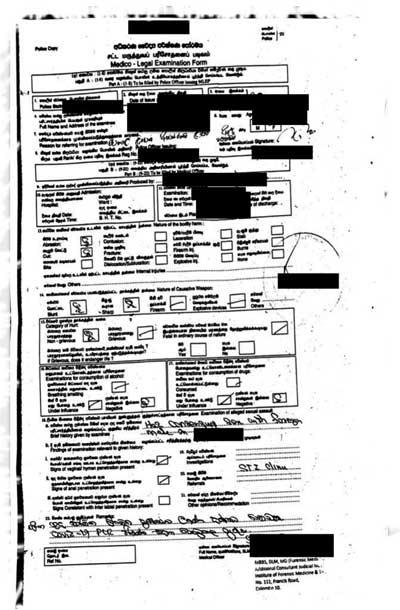 Article 11 of Sri Lanka's Constitution states that "No person shall be subjected to torture or to cruel, inhuman or degrading treatment or punishment." Such cruel treatment is also prohibited under Sri Lanka's Convention Against Torture and Other Cruel, Inhuman or Degrading Treatment or Punishment Act No. 22 of 1994 and can carry up to 10 years imprisonment.
The United Nations' Committee Against Torture has condemned the use of forced anal and vaginal examinations and has called for countries to outlaw the practice. Until recently, only 7 countries were confirmed to still conduct this degrading examination. Sri Lanka now joins a blacklist that includes Zambia, Uganda, Cameroon, Kenya, Egypt, Turkmenistan and Lebanon in conducting these examinations.
LGBT people are routinely persecuted in Sri Lanka
Case and police records from 2016 evidence the routine imprisonment and prosecution of LGBT people in Sri Lanka. In the last few years, Sri Lankan police have raided hotels, private homes and other locations to arrest people for offences including consensual same-sex conduct. A police performance report from 2018 indicates that 33 people were arrested and prosecuted for "homosexuality" in 2016 and 9 people were prosecuted in 2018, following such raids. The grave crimes extract of the Sri Lanka police show that potentially several hundred LGBT people are being arrested and prosecuted by the police every year for "unnatural offences" even for consensual relations.
"Homosexuality" not an offence under Sri Lankan law
There is no offence of "homosexuality" under Sri Lankan law. Police use Sections 365 and 365A of the Sri Lankan Penal Code to harass, arrest, torture and now anally and vaginally probe LGBT Sri Lankans.
Sections 365 and 365A of the Penal Code prohibit "carnal intercourse against the order of nature" and "gross indecency between persons". The vagueness of this offence is commonly exploited in Sri Lanka to criminalise same-sex relations between consenting adults, including in private. Sri Lankan police also have used the "gross indecency" offence to arrest young heterosexual couples for holding hands and showing affection in public parks. Recently, more than 100 heterosexual couples were subject to a mass arrest in Anuradhapura.
Transgender persons are protected under Sri Lankan law
Sri Lankan law recognises the rights of transgender persons and a transgender person can legally change their gender identity. Despite a legal process for gender recognition in Sri Lanka, transgender persons continue to be harassed by police or police refuse to recognise their gender recognition certificate. They are also often charged under vague offences in the Penal Code that prohibit "cheating by impersonation".
Discrimination against LGBT persons is unconstitutional in Sri Lanka
The arrests, torture, anal and vaginal probing and prosecution of LGBT Sri Lankans is unconstitutional.
In 2014, the Attorney General stated that discrimination against LGBT people is against Sri Lanka's Constitution and that LGBT people are protected under the right to equality. The Attorney General further held that sections 365 and 365A of the Penal Code cannot be enforced in a discriminatory manner against LGBT people. The Attorney General repeated these statements in both 2017 and 2019. In 2016, the Supreme Court questioned whether it is the role of the State to police what consensual adults do in private.
Despite these regular statements by the country's Attorney General, evidence is clear that discrimination and torture of LGBT people by Sri Lanka's justice system is systematic and remains unaddressed.
The shocking investigation by our special correspondent and exposed in this newspaper into the ongoing persecution and abuse of LGBT Sri Lankans by the police and medical doctors have caused alarm not only in Sri Lanka's LGBT community but also among lawyers and medical professionals.
Doctors call for the practice to end
Dr. Tush Wickramanayake, Family Physician, called the exams a "blatant violation of basic Human Rights…and a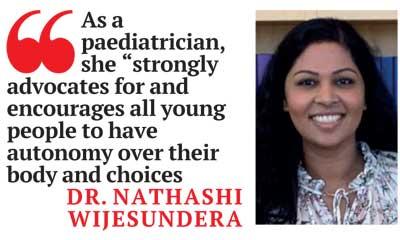 direct violation of the Hippocratic Oath". She said that the Oath requires doctors to "protect a patient's privacy and to do no harm based on any discriminatory basis." She agreed that the examinations are a form of torture and that both the SLMC and SLMA must condemn the practice.

Paediatrician, Dr. Nathashi Wijesundera said she found the actions of the JMOs a "violation of…human rights, ethically troublesome, medically immoral and going against everything that the Hippocratic Oath requires medical practitioners to abide by". She emphasised the "long lasting physical, emotional, psychological and social challenges LGBTQI persons face following such examinations" and that the "impact of such complex trauma and the dehumanising of these individuals… needs to be an urgent issue that is addressed." Dr. Wijesundera said that as a paediatrician, she "strongly advocates for and encourages all young people to have autonomy over their body and choices. This is especially true for the work my colleagues and I do with LGBTQI youth, who face discrimination from their own families, friends and wider society."
Lawyers sound alarm
Attorney-at-Law and criminal defence lawyer Mahesh Senaratne told the Daily Mirror and Lankadeepa that "the entire thing is based on the misinterpretation that homosexuality is illegal in Sri Lanka. It's based on prejudice and social stigma." He emphasised that the "entire issue with these examinations is that it is intended to prove something that is not a crime technically." He described the examinations as "an invasion of a person's body without their permission. It is incredible, invasive and often leads to abuse." Mahesh was clear that such examinations amount to torture. "These examinations are conducted because of cases brought forward by social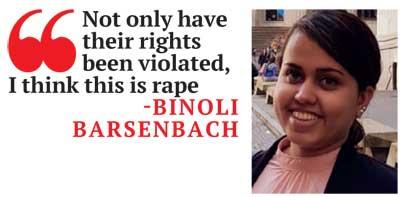 prejudice. It's crucial to remember that there is a difference between a person who has been raped being examined and a person alleged to have committed an "unnatural" offence being examined."
Attorney-at-Law Binoli Barsenbach described the examinations as "brutal, inhuman" and that "no man or woman should be subject to such torture". She also said that "not only have their rights been violated, I think this is rape!".
Another lawyer, who wished to remain anonymous described the practice as "torture and inhuman, and degrading treatment" and that it should be "abolished". She emphasised that the practice was not new and that the police "asks for it knowing full well that it has no relevance to the case."
Lawyers also raised alarm that Courts were even considering such examinations. An Attorney stated that "Courts should apply their mind to whether a medical report of this nature is strictly necessary (and not routine) especially in the context of invasive examinations… It's concerning that these types of reports are considered routine even when there is no merit to a case and has no prima facie bearing."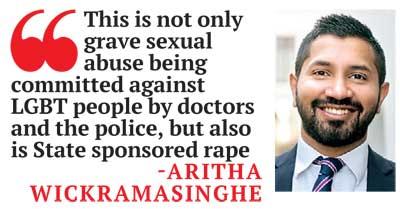 Equality Law Director of iProbono, Aritha Wickramasinghe described the revelations as "shocking". He said that "only perverts would want to forcefully probe the anus' and vaginas of LGBT people. This is not only grave sexual abuse being committed against LGBT people by doctors and the police, but also is State sponsored rape." He described the situation as absurd and outrageous. "Police want to prosecute LGBT people for consensual relationships by getting doctors to forcefully insert their fingers inside our anus' and vaginas. It is very clear here who has committed the crime, and it is not us."