---
This is an appreciation for the life of Ven. Godwin Weerasuriya, whose demise on 25th March 2020 was a great loss to the Anglican Church. He was a devout and committed priest who served in many churches in Sri Lanka. While being in the ministry for over 60 years Ven. Godwin, also served as the archdeacon of Nuwara-Eliya and Colombo for several years.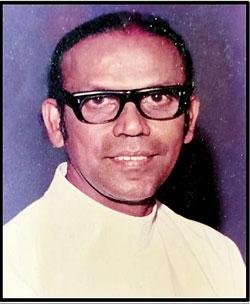 Ven. Godwin was born on the 20th of December 1933 to a wide circle of brothers and sisters, of a God-fearing family. Ven. Lloyd Weerasuriya, who was the chaplain at S. Thomas' College, Mount Lavinia at one time is also one of Ven. Godwin's brothers. Ven. Godwin was married to Manora, who was a dutiful wife who supported and helped him with managing the Church responsibilities. They were blessed with two delightful daughters and a caring son.

When Ven. Godwin received one of his initial postings as an assistant priest at St. Francis of Assisi, Mount – Lavinia, he stayed at our home and quickly became like a brother to my husband and myself. He is also fondly remembered by my two daughters and their families as our most beloved "Podi Father".
Outside the duties of herding his parishioners at each of the Churches Ven. Godwin served at, he also contributed to the Anglican Church in multiple other roles

Outside the duties of herding his parishioners at each of the Churches Ven. Godwin served at, he also contributed to the Anglican Church in multiple other roles, including the following
An Incorporated Trustee of the Church of England in Ceylon,
Chairman of the Governing Body of C.M.S. Schools
Chairman of the Advisory Committee
Chairman of the Department of Communication of the National Christian Council
Member of the Governing Board of the Theological College of Sri Lanka
Chairman of the Bishops Ministry Advisory Committee

I believe Ven. Godwin, earns from our Maker and Father in heaven a high commendation and welcome. He fought the good fight and finished his race with deep faith in the Lord. The crown of righteousness will be bestowed upon Ven. Godwin by our Lord as a reward, saying, 'well done thou good and faithful servant, receive the crown of life!'
May his soul rest in peace with the Lord
Nita Silva
Mount-Lavinia