---

In last week's article we discussed four favourable Yogas formed on the palm. We propose to examine a few more favourable Yogas today.

Budha Yoga: This Yoga is formed when there is a well-developed Mount of Mercury in the right hand and a line from the Moon reaching it in a bow-like curve. This line should not be broken, chained or very thick. (See figure 1 below)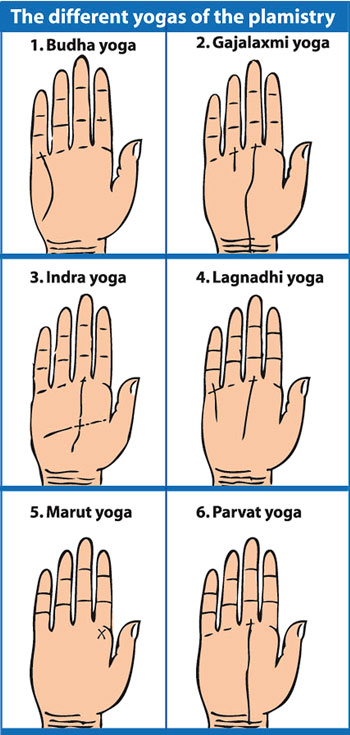 Result: A person endowed with this Yoga achieves great success as an entrepreneur or a businessman. He expands his business to foreign lands as well. He is capable of taking quick and correct decisions. He is well- known for his business acumen and wisdom. He eliminates his enemies, rivals and opposition.

Gajalakshmi Yoga: The features that combine to form this Yoga are: In both hands, the Fate line originating from the bracelets goes up to the Mount of Saturn. There is a thin fairly long Sun line originating above the Head line. Head and Health lines are prominent. (Figure 2)

Result: Even if the native has been born into a humble poor family, he would rise to a very high position. He would acquire knowledge, fame and wealth. He would have a reputation as a righteous and virtuous person. He would excel in his chosen field outshining others. He would amass wealth from foreign trade or work in a foreign country. His fame would survive his death for long years. If the Yoga is formed only in one hand, the effects of the Yoga would get reduced by a half.

Indra Yoga: This Yoga is produced when the subject has well developed Mounts of Mars, and a long, straight, and clear Head and Fate lines. (Figure 3)

Result: The subject endowed with this Yoga would become an army commander or a high ranking officer in the Police skilled in the martial arts of overpowering enemies. He would live like a king with servants and subordinates at his beck and call. He would be a pleasing conversationalist. His simple and affable manners win for him the respect and regard of all who come across him. His rise to great heights would begin at the age of twenty-eight. Very often people blessed with this Yoga die prematurely. They gain much fame and honour during the short span of their life.

Lagnadhi Yoga: A person with all fully developed Mounts and Mercury line at full length enjoys the benefits of this Yoga. (Figure 4)

Result: The subject is well educated and very clever. He is also a good orator. He is healthy, strong and handsome. He possesses noble qualities. He is not interested in worldly pleasures. He becomes either a great social worker or a great religious missionary.

Marut Yoga: A well-developed Mount of Venus with no obstructing lines, a strong, straight and clear Moon line and a clear Mount of Jupiter with a `cross' on it combine to form this Yoga. (Figure 5)

Result: A person endowed with this Yoga has pleasing manners. He is large hearted and is prepared to help anyone in need without expecting any reward. He has a cheerful disposition. People with this Yoga become successful businessmen. They work according to a pre-set agenda and are good at time management.

Parvata Yoga: The features that combine to form this Yoga are the Fate line, thin, deep and clear and unbroken proceeding from the bracelets to the Mount of Saturn and a fish-shaped formation at the origin of the line. (Figure 6)

Result: The subject is a self-made man. He successfully accomplishes whatever task he undertakes. He receives a good education. He liberally helps the poor and the destitute. He is highly respected in society. He would never suffer from want. People endowed with this Yoga cannot become successful politicians, but they earn the trust and friendship of those holding high political office.